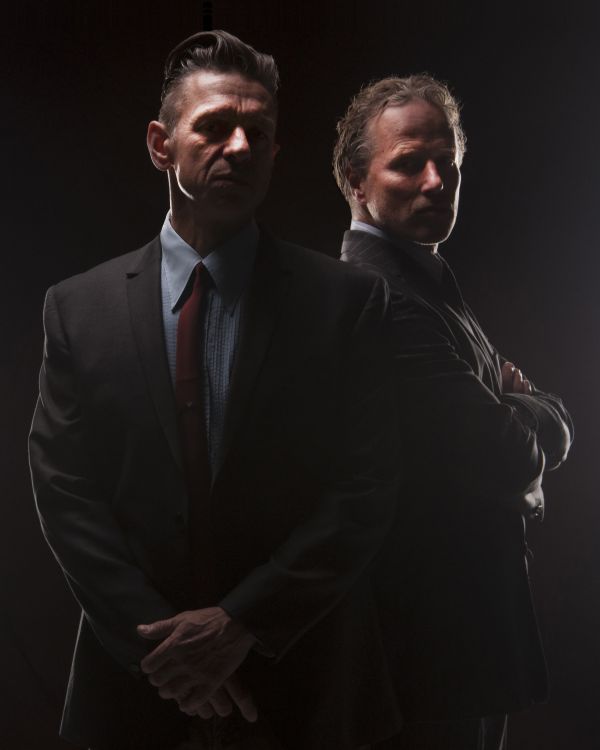 14 July 2017
Liam McKahey and Davey Ray Moor of CousteauX; Photo Credit: John Halfhide
Distinctive and riveting vocalist Liam McKahey and producer/songwriter Davey Ray Moor, the founding and core members of long-running, cinematic, cosmopolitan pop/noir rock band Cousteau, have had their share of ups and downs, including the break-up of the band, but they have returned at the same refined level as before, set to deliver another mesmerizing set of music in the form of a new album come September.
Rechristened as CousteauX (Think of the X as a kiss – and a scar.), McKahey and Moor, take up where they left off, unveiling an evocative, romantic, and potent stylistic blend reminiscent of David Bowie, Nick Cave, Scott Walker, and Burt Bacharach.
McKahey brings a voice that is alternately worn rough and broodingly smooth to Moor's atmospheric, slowly unfurling compositions. McKahey brings his life of stories to Moor's melodic tendencies. It's a heady brew.
When McKahey sings Moor's songs something magical happens. The duo shrugs off their sublime alchemy, stating, "It's not as though we try, that's just the noise that comes out of us…"
Cousteau swept the world in 2001: the act's first album went gold internationally and they have been playing on radios, cinema, and television soundtracks ever since.
McKahey and Moor's is a friendship which began in squats and parties in the 1990s and took them around the world earlier this century. An Irishman from Cork and an Australian born in Beirut, CousteauX makes for a classic London band; pilgrims and immigrants drawn to the music capital.
London indie superstar Carl Barat (the Libertines) co-writes a couple of tracks on the upcoming album as the band takes a darker, edgier swerve on songs like the foreboding "The Innermost Light" and "Love Is Not On Trial", while "Seasons Of You" and "BURMA" delve into gentle reflection.
Comeback album CousteauX will arrive in September on SilentX Records.
The Big Takeover is extremely pleased to premiere the video for the contemplatively melancholic track "BURMA". For those not in the know, B.U.R.M.A. is a World War II acronym for "Be Upstairs Ready My Angel", a message usually written on the back of the envelope of a serviceman's letter to his sweetheart. On the song, McKahey draws out his yearning, emotive vocals over a spare, but vibrant bed of reflective piano, deep upright bass, bittersweet strings, and muted trumpet notes.
The poignant music video focuses on a soldier, weary from war, lying back and dreaming of better days with his beloved. He pores over a picture of her and visualizes returning home, passing through verdant fields, a flowing river, glowing canopies of trees, and finally arriving at her stone-walled house. He knocks on the door and… Is it really just an ephemeral reverie or could it be real?…
Official Site
Facebook
Twitter
YouTube
PledgeMusic
comments powered by