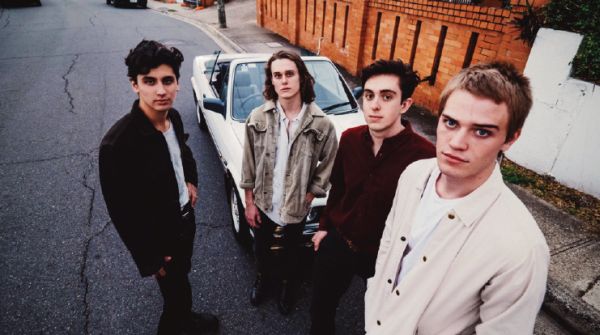 30 June 2017
Twinfolds; Photo Credit: Aaron McLachlan
No Feeling is Final is the debut EP from Brisbane four-piece Twinfolds. It is an ambitious collection of songs where each track has its own personality and stylistic direction, but also compliments the other numbers, creating an eclectic, but organic sonic whole.
Inspired by the band's day-to-day life and experiences, the lyrical content is a response to situations lived and seen by the group, referencing such subjects as Bon Iver, teenage love, and heartbreak. No Feeling is Final draws comparisons to the discography of The Strokes for its guitar intensity balanced by synth tones and subtle musicianship. Twinfolds has managed to take and reshape its diverse influences in order to create a unique EP.
Previously known as Vertigo, the Australian indie rock band Twinfolds formed at the end of 2015. From humble beginnings of playing in living rooms and backyards, the band has performed to progressively larger crowds at more established venues.
Notable achievements have included signing with Sydney-based indie label The A&R Department for the release of Vertigo's debut single "Get Away", playing Sydney's Oxford Factory, winning The Brightside's 2017 Homegrown Battle of the Bands competition, and, more recently, playing to a capacity crowd at Brisbane's Blackbear Lodge for the launch party of its track "Velvet Revolution."
The members of Twinfolds have worked tirelessly to produce an EP they can proudly share; one that reflects the diverse nature of influences that band has taken on during their time writing together.
The band will play an EP launch show at The Brightside, Brisbane, Australia on July 28th.
The Big Takeover is excited to premiere the video for the next track off Twinfolds' EP, "Butterfly Sweater." More flowing than debut rock tune "Get Away" as Vertigo (which premiered here at The Big Takeover), and smoother than the gritty, '60s-influenced "Velvet Revolution", this number kicks back wth an easy, yet kinetically funky groove. "Butterfly Sweater" is touched by a bit of trembling light organ reverberation and shot through with low-slung to smoldering guitar lines, simmering percussion, cymbals scintillation, a stompin' drum thump, and casually assured exclamations.
The video rolls out like an old-school videotape, showcasing a cool performance by the band as its members are bathed in strobing laser lights and wisps of fog.
On June 30th, No Feeling is Final will be released worldwide by R&R Records based out of Los Angeles.
comments powered by