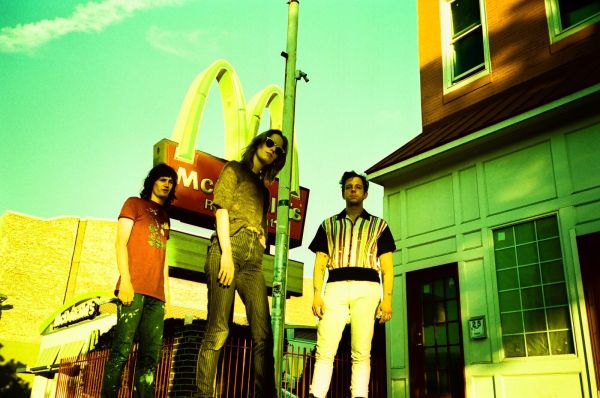 5 October 2017
Shining Mirrors (L-R): Drew Robinson, Reni Lane, Josh Christie; Photo credit: Drew Robinson
"When the one-week trial ran out, I had to sign up with another e-mail to finish it," says Brooklyn-based Shining Mirrors front man Drew Robinson of his adventures in Adobe Premiere and the ultimate result: the music video for "Cardiac," the first single from the upcoming self-titled Shining Mirrors EP, out November 3rd.
Robinson explains, "We were trying to capture a 'day in the life' kind of feel to introduce people to the band, and make the viewer feel they're there with us. In the practice space, pulling out the Jeep Wagoneer, having a coffee and a pastry, playing the show."
The first thing that's heard on the new self-titled EP from the band, which in addition to Robinson on vocals and guitar, features Reni Lane on bass, and on these recordings, drums by William Kuehn and Parker Kindred, is Lane telling her bandmates to, "Try it again." It'll remain a mystery as to whether the previous take of opening cut "Cardiac" just wasn't up to snuff, but boy did they get it right on the one that made it.
The EP contains this song, along with four more tunes that Shining Mirrors thoughtfully describes as "dark garage" music, but that NME writer Matt Wilkinson simply conveyed via tweet as "awesome stuff." These new recordings offer a more fully realized sound for the group that put out its debut batch of songs in early 2017 during the group's initial formation. The current Shining Mirrors line-up now includes Lakis Pavlou (who also mixed these tracks) permanently taking the reins on drums.
"My biggest musical influences are Chuck Berry and Jimi Hendrix," Robinson says, exposing some deep roots. He remembers, "I lived in the suburbs of Baltimore during my teens. I recorded a string of albums in my bedroom under various pseudonyms, and I played in a band called Four Fifty One. We had some mild success. We toured. We released an EP. Then I followed my girlfriend to New York and played in a band called BRAHMS. We toured. We imploded."
While living out this familiar rock n' roll story, Robinson had the name Shining Mirrors in the back of his mind the whole time. In 2012 he took it into the land of the living. "From the first kernel of an idea to the moment a song is born can take years, and I've literally been trying to make this EP for five years," he continues. "This is the first time where all the elements feel right."
"Feels right" is a good way to describe that opening number "Cardiac," which is also the new EP's first single.
"It's a song about seeing a girl in a subway car, falling in love, and watching her go her separate way up the stairs, and never seeing her again," Robinson explains of the tune, which might seem like an ordinary concept, but its simplicity is actually deceptive. "The conflict comes with the brain reminding you of 'the girl at home,' but the heart pounding for the person in front of you."
Tour dates:
10/7/2017: Wilmington, DE at Oddity Bar
10/12/2017: Paris, France at Pop In
11/3/2017: Brooklyn, NY at Flowers For All Occasions (EP Release Show)
11/10/2017: Philadelphia, PA at PHÂRMÂCY
11/11/2017: Baltimore, MD at Asian Taste
Official Site
Faceook
Twitter
Instagram
Bandcamp