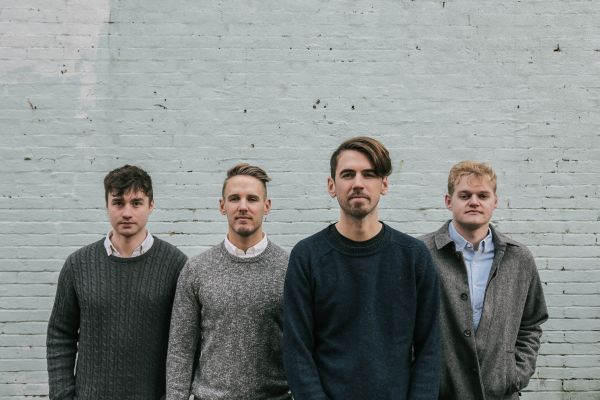 22 February 2017
Young Astronaut; Photo Credit: Jack Fairey
Young Astronaut is an indie 4-piece from New Forest, England. Having gained fans in both the UK as well as China with their debut LP Fawn, last year saw them perform at a wide variety of venues, from London's Hoxton Square Bar & Kitchen to numerous bars and bookshops across Beijing, Chengdu, and Hong Kong.
They are now back and ready to release their new album called A Gold Frontier. By teaming up with Grammy-award winning Geoff Swan (White Lies, Ed Sheeran, Bastille), Young Astronaut have decided to take it upon themselves to unite the various meanings of "indie" by intertwining them all together. Through linking the numerous indie sub-genres across 11 carefully crafted pieces of music, the band takes the listener on an unpredictable sonic journey, beginning with the opening number "Chasing El Dorado", which comes out April 7th.
"Chasing El Dorado" begins reflectively with guitar, bass, and the vocals introducing the theme of the song in the vibe of Two Door Cinema Club. Soon after it's followed by Stornoway -like harmonies and Iggy Pop's "Sunday"-esque groovy drumbeat, only to then pass through a mid-tempo instrumental bridge and later finish in a grand and cinematic way.
The plot-centered video for "Chasing El Dorado", which premieres here, takes place at a rollerskating rink and follows the clique-ish nature of its denizens and the struggles of a skater trying to get accepted into the club. High school-type disses, dazzling rollerskating moves, and a 'skate-off' ensue under a glittering disco ball.
The band took part in a Q&A about the video and it's making:
Q: What's the story behind this video?
A: The song is a travelling song. It's about making the decision to leave your home comforts, job, relationships, etc… to travel alone – and the challenges you may face doing so. The video acts a metaphor by focusing on the main protagonist who is a great roller skater and wants to be a part of her local roller skating community, but struggles with her confidence. She gets this confidence knocked early in the video, but eventually overcomes this and wins a skating showdown at the end of the video.
Q: Where was it filmed?
A: We shot it all on location at the roller disco 'Rollerworld' in Colchester. We loved the look of the place as it felt authentically '90s (old arcade machines, traditional burger bar, vintage red skates). We got in touch and they let us use the place for the entire day.
Q: How did you find the rollerskaters that appear in the video?
A: We posted an advert on our Facebook page to see if any skaters would be interested and it was picked up by various roller skating groups. We ended up having to respond to about 200 emails; we didn't realise how big the roller skating community was. There were a lot of skaters of all abilities who wanted to be a part of the video.
Q: Who did you enlist to help you make your story a reality on film?
A: We had Adi Suissa down for the day to help with the choreography; he'd previously worked with ITV, New Balance, MTV and had skated in Starlight Express.
We had an idea for a long, continuous shot in which we would track all of the skaters skating around in a circle on a steady cam. We didn't take into account that neither of the cameramen we had could actually skate, so in the end we got Suissa to skate backwards in a circle and film it for them.
The shoot got a lot of attention in the area and was even featured in the local press
Q: How does the visual side complete the music itself?
A: The song itself has a bright, upbeat, rhythmic chorus, so the idea was to shoot something that would suit this. We settled on a '90s aesthetic;neon lights, colourful costumes, etc… because we felt it was a good fit with the tone of the song and visually interesting for the viewer.
Upcoming Shows:
5th April- Lock Tavern, London
30th April- Teddy Rocks Festival
comments powered by