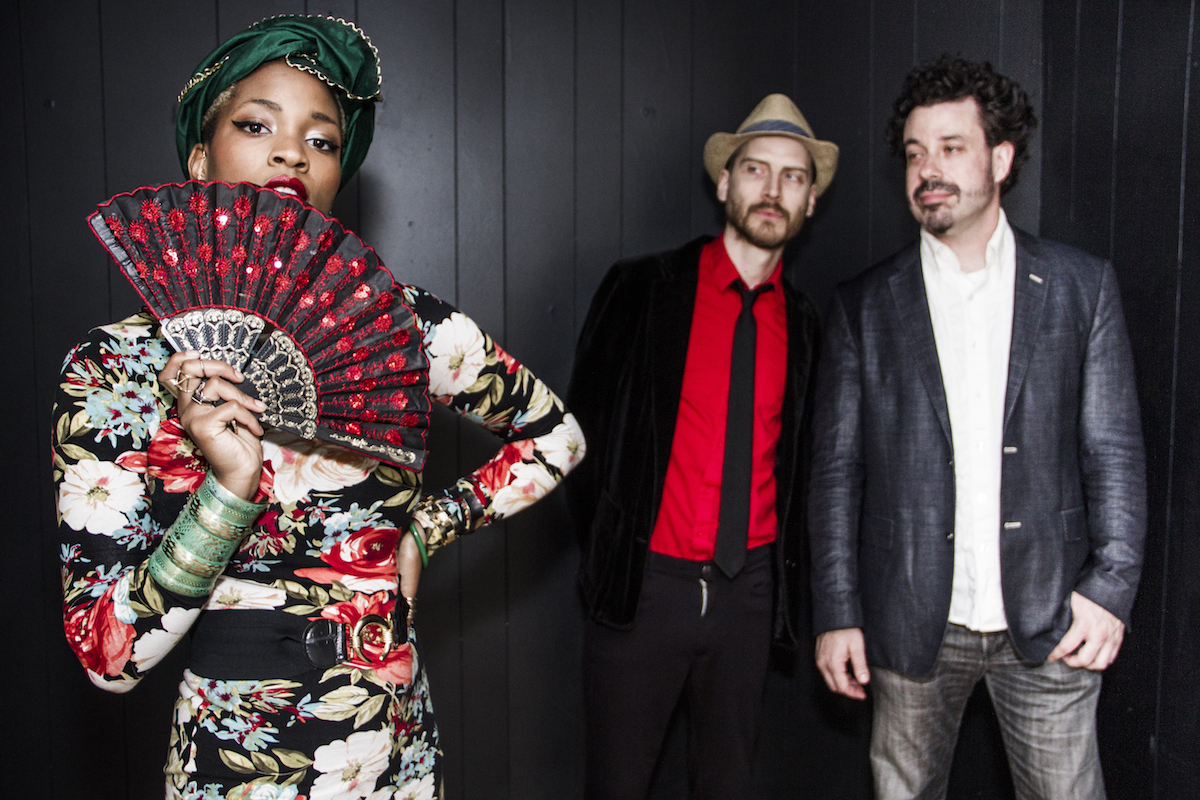 17 November 2015
Chicago's premiere punk-blues piano-and-drums outfit are back in high gear. Following the September release of sophomore album No Hotel (Yellow Dog Records), pianist Johnny Iguana and drummer Michael Caskey joined singer/dancer Yana for a whirlwind of touring through the American Midwest and East Coast.
The Claudettes' 2013 release Infernal Piano Plot … HATCHED! featured a unique fusion of sounds ranging from Otis Spann to the Minutemen, and from Ray Charles soul to cartoon soundtrack icon Raymond Scott. With the exotic Nigerian-American Yana's entrance on No Hotel, The Claudettes have taken their music to new territory. Yana's French pop vocals recall the finger-snapping heyday of France Gall combined with a sultry power reminiscent of a young Shirley Bassey.
Now, the band is premiering its first video from No Hotel via The Big Takeover. "Chez Les Yé-Yé" was originally a swinging '60s single and trademark hit for Serge Gainsbourg, but menace and obsession lurked behind the breezy guitar and Pierre Cassel's wacky dancing seen in the song's 1963 video. That's no potato peeler Gainsbourg is brandishing.
"The trappings of 'Chez Les Yé-Yé' are swingin' '60s parties and spazzy dancing, but the lyrics are about an obsessed man hunting for a woman he's crazy about, with a switchblade in his hand," says Iguana.
Caskey lampoons Cassel's dancing before taking the drummer's throne, while Iguana plays a furious boogie-woogie. Soon afterward, Chicago dance theater troupe Lucky Plush enter the studio and seem to overwhelm the Claudettes' musical chemistry with a wild dance party. Iguana says there's a message in the ensuing chaos.
"The musicians start to feel that they aren't even necessary. They've become completely invisible and dispensable to the revelers."
Iguana got the idea after witnessing a DJ set at the Ottawa Blues Festival, where The Claudettes performed in 2014. "There were thousands of people dancing and having a blast, while one guy was pushing buttons to play pre-recorded music," he says. "Technology has become the focus. As far as pop music goes, you might say that musicians are not invited to the party anymore," he says. "It's a 21st century phenomenon."
Sharp-eared listeners will also catch a cheeky reference to the Three's Company theme.
… and for historical reference, here is the original Serge Gainsbourg video: