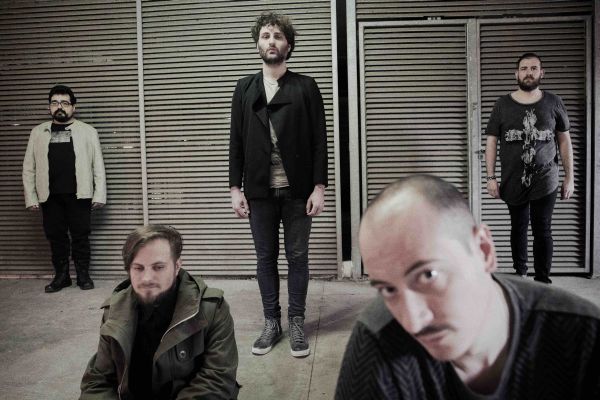 19 December 2017
Japan Suicide; Photo Credit: Luca Sola
As of late, The Big Takeover has been covering a number of artists from Italy. Perhaps it's no coincidence that a country that has played such a massive role in world history is now churning out so much great musical output. One cannot help but keep an eye on that part of the world. Today The Big Takeover has the pleasure of presenting you yet one more track from Italia – this time, it's from post-punk alternative rockers Japan Suicide.
Based in the central Italian city of Terni, Japan Suicide is a five-piece comprised of Stefano Bellerba (vocals, guitar), Leonardo Mori (synth), Matteo Luciani (bass), Saverio Paiella (guitar), and Daniele Cruccolini (drums). Formed in 2010, they united over their love of Joy Division, The Cure, Nine Inch Nails, and Depeche Mode.
Their music is also strongly influenced by Bauhaus, Siouxsie and the Banshees, Yeah Yeah Yeahs, Japan, The Damned, Interpol, Suicide, CSI, CCCP, and Massimo Volume.
The band has just announced their forthcoming album Santa Sangre, which will be released digitally through Unknown Pleasures Records, and later independently released on vinyl too. The lead track from this album is called "Circle" and it comes with an intense, really freaky video, which was produced and directed by Francesco Brunotti
The lyrics for "Circle" themselves are inspired by Dave Eggers' novel The Circle while the video combines the animalistic cultism of an adult version of Lord of the Flies and 'he Wicker Man. We see a procession and a sect, and strong hints of dark ancient ritual. Japan Suicide exhibits fine showmanship, a tasteful penchant for noise rock and post-punk, a heady driven cocktail of guitar and broody atmosphere. A fine debut to their anticipated album!
"We have finally produced our new album Santa Sangre, which was inspired by Alejandro Jodorowsky's movie and Roberto Bolaño's novel 2666, all the while moving from echoes of British post-punk to a sound replete with more psychedelic and shoegaze textures," says Stefano Bellerba.
"This is a delicate, but necessary step for us: we tried to match the quality of our previous album, We Die in Such a Place, while also adding new sounds from our past work in order to achieve a condensed powerful opera and, at the same time, a sound that is capable of achieving different listening levels." Bellerba continues.
This album follows up the 2017 single "This Be The Verse", released on the Dark Italia compilation Sparkles in the Dark vol 4, alongside The Soft Moon and many other cutting edge artists.
Earlier, in 2015, they released "We Die In Such a Place", followed by their 2016 release of the 1978 EP via Darkitalia. Their 2015 release led to the production of several videos, significant press attention at home, and also a sync licensing deal. While Japan Suicide has performed many gigs across Europe, in May 2018 they will venture to North America for their first Canada/ USA/ Mexico tour.
The Santa Sangre album will be released on February 14, 2018 via Unknown Pleasures Records, with a self-released vinyl edition to follow, featuring a slightly different tracklist. Japan Suicide has launched a crowdfunding campaign via MusicRaiser towards the vinyl release.
We think you'll also dig their recently released single "This Be The Verse" (via The Blog That Celebrates Itself Records), so enjoy that below:
JAPAN SUICIDE
SoundCloud
Facebook
Bandcamp
YouTube
Twitter
Instagram
comments powered by