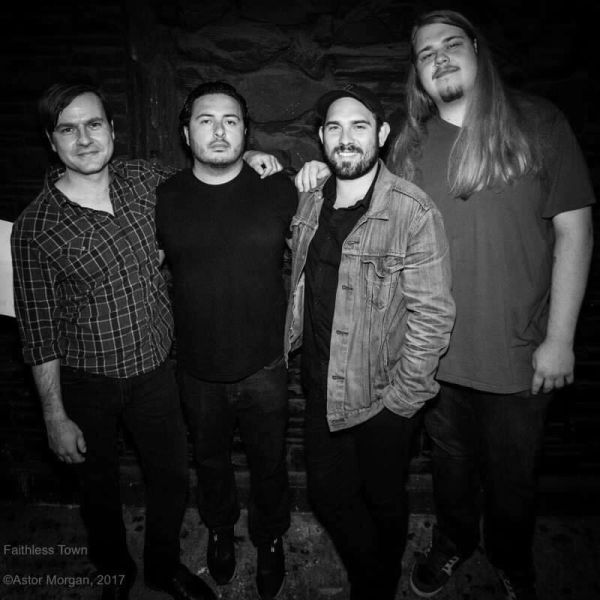 23 March 2018
Faithless Town; Photo Credit: Astor Morgan
Today, LA-based Americana/rock band Faithless Town unveil the music video for their latest track, "City Of Ghosts". Directed by Faithless Town frontman and principle songwriter, Gene Owens, the video was shot in California and Mexico.
Told through a first person narrative, the song explores the hot-button issue of immigration by telling the story of a man that is deported to Mexico after spending the majority of his life in America. Separated from his daughter and family who are back in The U.S., he finds himself sequestered in Tijuana, a stranger in a strange land.
The song was written by Owens. He was compelled to write the song after reading a news article about a recently deported man who had lived in the United States since he was 8, and who now finds the suddenness of being uprooted and dropped in Tijuana overwhelming.
"He has no ties to Mexico. He's lived most of his life in The U.S. That's where his friends and family are, and then suddenly he's arrested and dropped into a foreign place and separated from everyone he loves. I found the story heartbreaking and I felt the need to put it into a song. It's an important story that needs to be told and especially right now, at a time when immigrants are being demonized by those in power for political gain," says Owens.
Produced and recorded by Andrew Bush at his studio in Echo Park, the track is a no frills, folk epic built upon a hypnotic, finger-picked acoustic guitar. Ghostly pedal-steel guitars swell and weave their way around Owens' vocals, as the drums beat out a dirge like rhythm that builds to a crescendo of fluttering mandolins and soaring harmonica.
Faithless Town, led by singer-songwriter Gene Owens, formed in 2008 in Atlanta and now based in Los Angeles. The band has consisted of several line-ups over the years. Their newest song "City Of Ghosts" features Owens on acoustic guitar and lead vocals, David Walker on bass, Tommy Zamorano on drums and backing vocals, and Taylor Crowell on keyboards. It also features musical guests Tim Walker (Glen Campbell, Minnie Driver, Minibar) on pedal-steel guitar and producer Andrew Bush on mandolin, keys, and percussion.
"City of Ghosts" PURCHASE/DOWNLOAD/STREAM links:
Bandcamp
CDBaby
Soundcloud
Spotify
iTunes/Apple Music
NEXT SHOW: Friday, March 30th at Hotel Cafe
FOLLOW Faithless Town:
Website
Facebook
Instagram
Soundcloud
Twitter
comments powered by