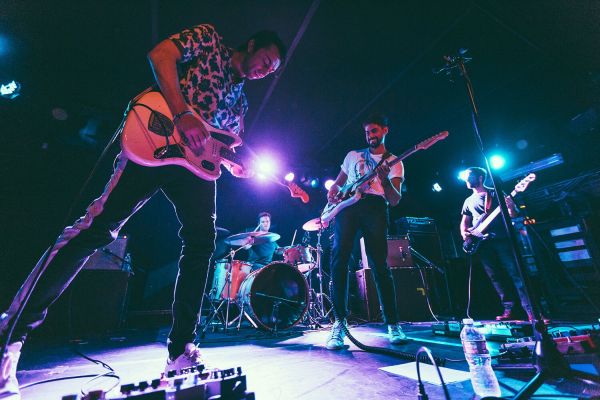 23 August 2018
Mars Motel – Mercury Lounge – July 26, 2018 – Photo Credit: Leo Mascaro
Mars Motel is a dream-rock band from Brooklyn, NY presenting an explosive and immersive sound which originated from melodic elements of 1990s Brit-Pop as well as the raw, driving rhythms of the early 2000s NYC rock scene.
Well before the official name and creation of Mars Motel, the music began as a series of psychedelic, Brit-Pop-inspired bedroom demos written by singer/guitarist Sarik Kumar during his last year of high school. For almost 10 years, the demos were left on an old computer and almost forgotten until the summer of 2016, when Kumar rediscovered them while visiting his childhood home on Long Island.
After a couple of successful singles being released in the last two years since Mars Motel was formed, including "Green" and "Living in the Moment", The Eclipse Sessions live EP was released on July 27th of this year.
Recorded on August 21, 2017 at Mission Sound during the first solar eclipse the contiguous United States saw in 38 years, and released during yet another eclipse this year, the EP features three live tracks from Mars Motel's first wave of singles, "The Enemy", "Green", and "It's Here Tonight", as well as two unreleased B -sides ("Hit The Floor" and "City Streets").
The Big Takeover is delighted to premiere the video for the engaging live session of "City Streets". The Eclipse Sessions is now available on all streaming platforms.
For those who would like to catch Mars Motel live and truly experience their captivating energy, the band will be playing a show on August 25, 2018 at The Delancey in NYC.
Upcoming dates:
Aug 25, 2018 at The Delancey, NYC (Tickets)
Website
Facebook
Twitter
Instagram
SoundCloud
comments powered by