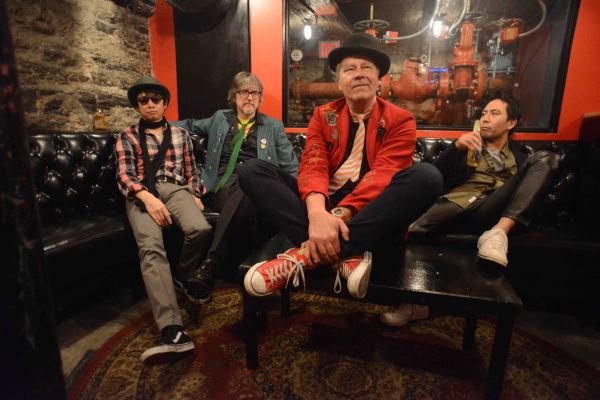 10 July 2018
Walter Lure & The Waldos – Photo Credit: Spencer Lloyd
It's not every day that you get to meet a living legend in any sphere of life, let alone in relation to music. With it becoming an increasing rarity to meet anyone over 50 on the scene, it's even rarer to meet anyone with that many years on the music scene itself. Today is the day for all of us to encounter such a legend.
Here we offer you the opportunity to hear "Crazy Kids" by Walter Lure & The Waldos and enjoy the accompanying video. This is the first single off the band's forthcoming album Wacka Lacka Boom Bop A Loom Bam Boo, to be released via Cleopatra Records on August 17th.
Recently signed to Cleopatra Records, Walter Lure & The Waldos' new album is their first output in 24 years from legendary guitarist-vocalist Walter Lure, an original member of The Heartbreakers, who spearheaded the first wave of punk rock.
"This is my first release of new songs in 25 years or so since the last Waldo's album. That might seem like a long time but it really only feels like a few years-life seems to contract over long periods for some reason," says Walter Lure.
In 1975, Walter Lure became an original member of The Heartbreakers as guitarist and vocalist, joining Johnny Thunders, Jerry Nolan (of the New York Dolls), and Richard Hell (of Television), who was later replaced by Billy Rath. Lure was playing with glam-punk band The Demons when he joined The Heartbreakers and earlier played with anarchic Bronx hard rock group Bloodbath in the late '60s and early '70s.
The Heartbreakers supported the Sex Pistols on their ill-fated 1976 Anarchy Tour just as the UK punk scene was building momentum. In 1977, they released their first and only studio album L.A.M.F. The band's 1977 song "London Boys" is a swipe at the Sex Pistols, in response to the Pistols' song "New York", a put-down of the New York Dolls.
After The Heartbreakers' "official" breakup in 1977, the band would often reform, continuing to play the occasional gig right up until Johnny Thunders' death in 1991. Lure also worked with The Ramones on their albums Subterranean Jungle (1983), Too Tough To Die (1984), and Animal Boy (1986), released a single with The Blessed, and also started a number of bands, including The Hurricanes and The Heroes, before ultimately founding The Waldos.
Today Walter Lure & The Waldos is made up of Walter Lure (guitar and vocals), Takanori Ichiuji (bass and vocals), Tak Nakai a.k.a. Takto (guitar and vocals), and Joe Rizzo (drums and vocals).
Ahead of this album release, the band is teasing the lead track "Crazy Kids". The tune will also be featured in the forthcoming full-length film Thunders: Room 37, which dramatizes the final days of Lure's former bandmate Johnny Thunders.
""Crazy Kids" was originally written back in the '90s sometime after the first Waldos' release but, for some god knows what reason, I forgot about it after awhile. I hadn't performed it in over 20 years until I dug it out again for this new release. The opening chords have a hint of a Sex Pistols feel to it and that was definitely on purpose. I remember discussing the high A major chord with Steve Jones of the Pistols on the Anarchy tour. It has lots of open strings reverberating with the higher notes," explains Lure.
This is a high octane composition that goes to show us that powerhouse legend Walter Lure has no intention of slowing down. With all the raw spunk contained in classic Sex Pistols offerings, "Crazy Kids" goes on record for bridging time and space in the punk sphere.
Their new full-length also features other new tunes such as "Damn Your Soul", as well as killer new versions of Heartbreakers classics "London Boys" and "Take A Chance On Me".
The Heartbreakers final show was for the Johnny Thunders Memorial Concert. In 1994, three Heartbreakers – Walter Lure, Tony Coiro, and Joey Pinter – were joined by Jeff West in releasing Rent Party, The Waldos' debut album. In 1997, Walter Lure also played a set of shows for the 40th anniversary of The Heartbreakers L.A.M.F. album, joined by Blondie's Clem Burke, Sex Pistols' bassist Glen Matlock, and Social Distortion's Mike Ness.
On August 17, Wacka Lacka Boom Bop A Loom Bam Boo will be available from digital music stores and streaming platforms such as Spotify, but it is already available for pre-order via Bandcamp.
In addition to the digital download option, this album is also available on both CD and red vinyl with reverse-board jackets.
On July 15, Walter Lure & The Waldos will also be playing Johnny Thunders' Birthday Bash at Bowery Electric, along with Lenny Kaye (Patti Smith Group), The Carvels NYC, Heap, The Hipp Pipps, Lulu Lewis, Red Datsun, The Ritualists, The Skelekasters, The Skullers, Steve Krebs & The Maynard G's, The Threads, DJ Steve Fallon, and Dennis Doyle.
On September 6, Walter Lure & The Waldos will hold their record release party at Bowery Electric in New York.
TRACK LIST
01 Crazy Kids
02 Damn Your Soul
03 Where Were You (On Our Wedding Day)
04 London Boys
05 Lazy Day
06 Take A Chance On Me
07 Wham Bam Boo
08 Bye Bye Baby
09 She Doesn't Love You
10 Little Black Book
11 Don't Mess With Cupid
12 You Talk Too Much
WALTER LURE & THE WALDOS
Facebook
Bandcamp
Spotify
iTunes
comments powered by