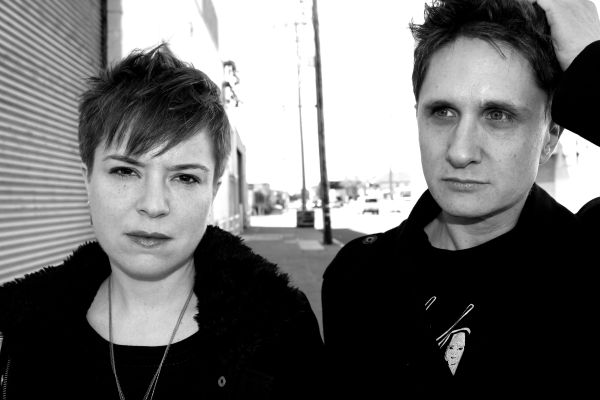 1 June 2017
Street Eaters; Photo Credit: Shawnecee Schneider
Street Eaters is a truewave/punk band from Berkeley and Oakland, CA that has drawn a range of sonic comparisons to bands from Wipers to Masshysteri, Autoclave to Drive Like Jehu, Huggy Bear to KARP, and Sonic Youth's Bad Moon Rising to Warsaw.
After years of relentless international touring on the heels of their well-received album Blood::Muscles::Bones (released on Nervous Intent in the U.S. / Contraszt! in Europe), Megan March and John No returned home to troubled times in their immediate bay area underground punk community/family and the world at large.
True to form, the band sought to come to terms with this changed landscape by diving deeply into their own recording studio to create a new record with an expansive new vision. This record, The Envoy, is a concept album based on famed dystopian, gender revolutionary, anti-authoritarian author Ursula K. Le Guin's influential books The Dispossessed and Left Hand of Darkness.
The Envoy was released on May 12th via Nervous Intent.
Songs are at the heart of the album and keep its momentum and energy high, atop a shifting musical landscape underpinned by tension, fierce resolve, isolation, and the vastness of mental and physical space. Directly inspired by Le Guin's radical speculative fiction and analytical lens on the world around us and beyond it, Street Eaters tackle transformative and transgressive lyrical themes of oppression, resistance, and change explored in the books.
The songs are interspersed with instrumental interludes layering field recordings, planetary oscillations, comets, glaciers cracking, sea lions using tonal underwater sonar, a modded karaoke box, and more. However, the band's core maximized-minimalist aesthetic – saturated and overdriven bass, propulsive yet bombastic drumming, and intense dual vocals – remain front and center.
The Big Takeover premieres the stark performance video for the intense, driven, and lyrically thought-provoking "Definition." Grinding guitar burn, a running low-end bass line, and kinetic tempo of emphatic drum strikes and cymbal agitation whirl around March's passionate, but cool-tone exclamations backed at times by No's lower vocal register.
In the video March and No attempt to play their instruments and sing while becoming tangled up in ropes, which impede their movements. About the video, March and No state, " "Definition" was shot in one wild night in our friends' very atmospheric basement, with filmmaker Shawnecee Schneider working the camera using her magic eye."
They divulge that, _"The song is about xenophobia, about defining oneself and one's "group" via the exclusion of others, and how taking that path is not only a tortured and confusing trap but will ultimately end in profound isolation and alienation. The lyrics were directly adapted from a scene in Ursula K. LeGuin's book The Dispossessed. In the video, the rope and the disembodied hands represent how, in our hyper-capitalist, competitive society, these forces of xenophobia are used as forces of control, as weapons, and are happening everywhere, traps and webs being laid in all directions, and can ensnare anyone who does not actively resist them and push back."
Upcoming tour dates:
6/2 FR Dijon @ Maloka Fest
6/3 DE Mannheim @ Pfing Fest
6/4 DE Regensburg @ Büro
6/5 AUS Graz @ SUB
6/6 HU Szeged @ Várkert
6/7 HU Budapest @ Aurora
6/8 AUS Vienna @ Venster 99
6/9 DE Erlangen @ Jugendhaus
6/10 FR Strasbourg @ ABC/Antinational Fest
6/11 CH Biel @ Le Salopard
6/12 CH Bern @ Cafe Toujours
6/13 DE Munich@ Kafe Kult
6/14 DE Berlin @ Bei Ruth
6/15 DE Leipzig @ Zoro
6/16 DE Hamburg @ Storte
6/17 DE Cologne @ Contraszt! House
6/18 NL Utrecht @ACU
6/19 UK Brighton @ Sticky Mike's Frog Bar
6/20 UK Bristol@ The Old England
6/21 UK Leeds@ Wharf Chambers
6/22 UK Sheffield @ Audacious Art Experiment
6/23 DE Neubrandenberg @ Punx Picnic Fest
6/24 UK Glasgow @ Spite House
6/25 UK London @ DIY Space For London
6/26 FR Paris (Montreuil) @ La Comédia
6/27 FR Bordeaux@ Void Club
6/28 ES Madrid @ La Condenada
6/29 ES Valencia @ La Residencia
6/30 ES Barcelona @ Rock & Trini
7/1 FR Marseille @ La Salle Gueule
7/2 FR Lyon @ TBA
+return home show
7/22 USA San Francisco @ The Chapel (w/Marked Men)
Official Site
Order The Envoy at Nervous Intent
Facebook
Twitter