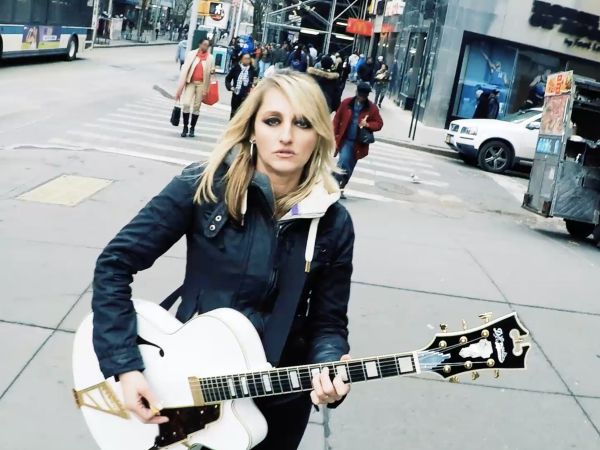 12 May 2017
Gina Volpe; Photo Credit: Lola RocknRolla
A founding member of the seminal NYC punk band Lunachicks, Gina Volpe teamed up with producer Barb Morrison (Blondie, Franz Ferdinand) and returned to the studio for to record Different Animal, her debut solo EP that was released on April 21st. It's an explosive, exhilarating EP, blending analog and electronic elements into a thoroughly modern sound; She Shreds Magazine raved that it's "…a diverse collection of tracks layered with chunky riffs, pop, and dance sounds."
"I made them listen to Donna Summer and ZZ Top back-to-back in the studio," Volpe remembers with a laugh. "There's all this freedom now that didn't really exist for me ten years ago with technology and the ability to explore outside of the genre people expect of you."
Hailed by the NY Times as "trashy, sloppy and louder than a speeding subway car," Lunachicks formed in the dawn of the 1990s as an artistic outlet for Volpe and her high school classmates' anarchic energy and feminist sensibilities.
Over the course of a half-dozen albums, Lunachicks toured with everyone from the Ramones and the Buzzcocks to No Doubt and the Go-Go's, in addition to performing at massive festivals around the world and appearing in multiple films.
Known as a blistering lead guitarist, Volpe made the leap to fully-formed frontwoman in the early 2000s when she launched her own band, Bantam. The music was more dissonant, artful, complex, and dark than Lunachicks.
In 2006, Volpe set up a home studio and began scoring for films, expanded her output as a visual artist, composed an off-Broadway rock musical, and even served as the motion capture model for the female guitarist and bassist characters in the blockbuster video game Rock Band.
Now Volpe continues her acclaimed musical path with her Different Animal EP and the Big Takeover's premiere of the video for the title track.
Volpe details the creation of the video for "Different Animal", directed by Ilya Chaiken with additional shooting by Lola RocknRolla and Krystal Kennedy. She explains, "I knew that I wanted to make a video for each song on the EP, but of course I had no budget for any of them, so as I was wracking my brain for a video concept for this song, weather reports were coming in about a blizzard due to hit the city."
She continues, "Because the song mentions winter and it's a bit about metamorphosis, coming out of hibernation and waking up from a slumber, I thought of melting snow and ice. I thought about being lost in the woods, or an animal searching for something and realized that the upcoming blizzard was the perfect backdrop. I just needed a costume and a camera person willing to shoot in a blizzard. Luckily, I knew that I could always count on my good friend and director Lola RocknRolla to venture out into inclement weather to make some art, so that was checked off my list. But The costume, not so easy…I wanted to rent a white gorilla suit but simply could not afford it (who knew they were so expensive) so with several hours to go I grabbed some white fun fur out of my art studio and stayed up all night cutting and sewing a costume."
The video shoot was pretty wild, with Volpe revealing, "It was quite a hilarious scene trudging around Fort Green Park in Brooklyn in a Yeti suit during the blizzard. The reaction of passers by was the best though. People were so excited to see a Yeti trudging through the snowy streets of Brooklyn that they would excitedly yell out "YETI"!!"
Take a look below at the enjoyably amusing visual result:
Official Site
Facebook
YouTube
Instagram
iTunes
comments powered by