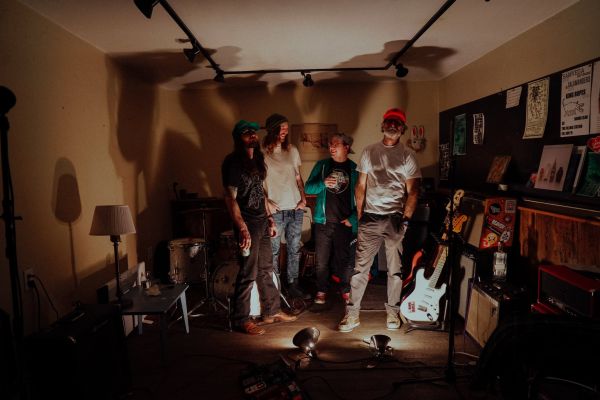 26 April 2018
King Ropes; Photo Credit: "Justine Jane Photography":https://www.facebook.com/justinejanephotography/
Experimental, indie garage rock band King Ropes hails from Bozeman, Montana, and is made up of frontman Dave Hollier and an eclectic roster of musicians (who have played with the likes of Willie Nelson, The GooGoo Dolls, Lia Ices, Silver Dollars, The Growlers, and Graham Parker collectively), as well as legendary LA sound engineer Barry Conley (who has worked with Stevie Ray Vaughan, L7, Black Label Society, Dwight Yoakam, and more).
The band released latest EP Green Wolverine on April 1st of this year and it's an eclectic and powerful four-track album that is as emotive as it is creative. The EP is about coming to terms with returning home and redefining what home means to us all.
After spending years in LA and New York, Hollier returned to his hometown in Montana, both to raise his youngest daughter while also helping lay his father to rest. The record represents the juxtaposition of wanting to get as far away from home as possible and the constant yearning for that taste of something familiar, written at an emotional turning point in Hollier's life.
Hollier reveals, "I'm interested in the contrasts between urban and rural, eastern and western, sophisticated and raw, sweet and bludgeoning. People think it's weird, a kid from Montana to move to New York in the '80s. NY was pretty gnarly then, and Montana was really isolated, geographically and culturally, but those two extremes define who I am, and I think this music reflects that."
As Hollier worked on each track of Green Wolverine, he realized that they're all meditations on loss, expressed through four completely different soundscapes. The lyrics, in one way or another, are all addressing the challenges people, it seems like all of us, face in feeling connected to each other, or feeling loved, or safe, or like we belong.
"Dogeared" is a track Hollier had written over a decade ago, but had never quite been happy with – now, inspired by the meeting of his fellow musicians, the track was given a second chance and earned a spot on the new album. The Big Takeover is pleased to premiere the video for reflective folk-rocker "Dogeared", a look at the extremes of the urban and rural environments, which both cycle through decay and renewal.
Hollier reveals, "'This video for "Dogeared" was shot, directed, and edited by Eric Ogden. I'm friends with Eric from my days in Brooklyn, and always loved his work as a photographer. I hadn't realized it but it turns out he does lot of video also. We bounced around a couple ideas and then I let him run with it. He came up with this video, which I think beautifully captures the vibe of the song."
Website
Facebook
Instagram
YouTube
Bandcamp
SoundCloud
comments powered by