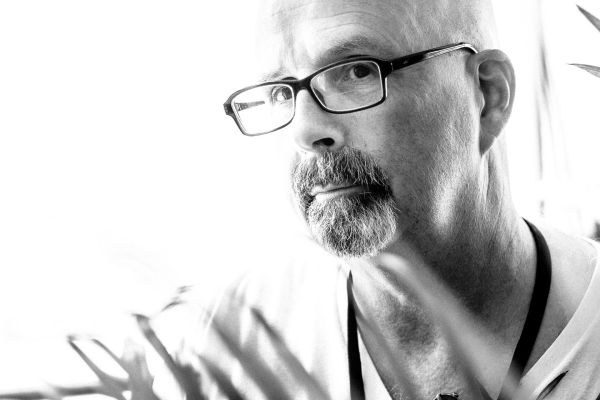 23 January 2017
Peter Holsapple; Photo Credit John Gessner
Beloved power-pop songwriter Peter Holsapple (from the dB's and Continental Drifters) is self-releasing a new vinyl 45 record, "Don't Mention the War" b/w "Cinderella Style" on his own Hawthorne Curve Records, in stores January 20th.. The songs will also be available for purchase as digital downloads on iTunes and other fine services online.
To a certain type of rock fan, Peter Holsapple is on the short list of the very best in power-pop songwriting. His tuneful, scorching classics have been a mainstay of the genre since the dB's first released "Black and White" in 1980. Holsapple's songs have been covered by premier vocalists like Don Dixon, Syd Straw, and Marti Jones, and rock bands as diverse as the Troggs, the Golden Palominos, Nada Surf, and Bully, as well as have been licensed for movies (Margot at the Wedding) and TV (Billions, 21 Jump Street).
Holsapple, based in Durham since 2006, has played extensively as a solo acoustic performer in the area, but the new tracks find him working with James Wallace (Max Indian, Phil Cook) and Mark Simonsen (The Old Ceremony).
January 2016 found Holsapple, Wallace, and Simonsen holed up in Simonsen's studio, cutting hi-fi versions of the songs Holsapple had originally submitted as part of Radio Free Song Club, a songwriters' collective podcast of which Holsapple is a charter member. This vinyl 45 rpm record is sure to be a collector's item as it's Holsapple's first solo venture since 1993's Out of My Way.
Holsapple explains the meaning behind the song and video, relating, ""Don't Mention the War" is a poignant look at one man's post-traumatic stress syndrome and how it affects his adoring nephew. With low somber brass (Mark Daumann on tuba) and echoes of battles past, this is another of my engaging story-songs, steeped in dark emotions and vivid character assessment."
"Don't Mention The War" audio:
comments powered by