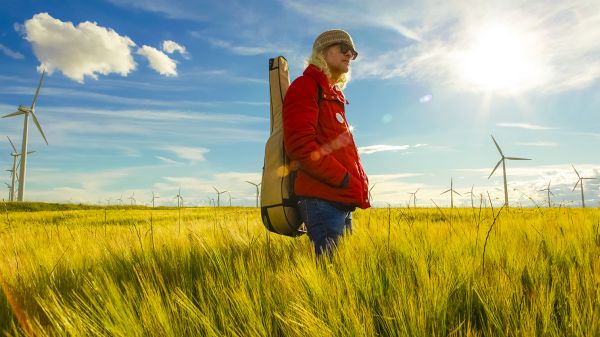 7 March 2018
Anton Barbeau; Photo Credit: Gustaff Choos
The Big Takeover is excited to premiere the delightful video for "Down Around the Radio", the first single from the new Anton Barbeau album, Natural Causes. The LP comes out Apr 13th on Beehive.
Natural Causes is Barbeau's not-very-long-awaited follow-up to 2016's Magic Act. Sacramento born and Berlin based Barbeau, the perennial "cult hero's cult hero", plays "pre-apocalyptic psychedelic pop." Natural Causes is a bright, open, sometimes sad, and often shimmering collection of new songs and splendid remakes awash in ancient Mellotrons, analog synths, and 12-string guitars.
As ever on an Anton Barbeau album, guest artists abound. Robbie McIntosh (Pretenders, Paul McCartney) plays 12-string on "Disambiguation" and "Down Around the Radio". Nick Saloman and Ade Shaw, a.k.a. the Bevis Frond, appear with Michael Urbano (Todd Rundgren, Neil Finn) on "Summer of Gold". Erstwhile Robyn Hitchcock crony and former Ant bandmate Andy Metcalfe plays bass on "Magazine Street." Karla Kane from The Corner Laughers duets with Ant on "Neck Pillow".
Barbeau delves into the backstory of making "Down Around the Radio" – the song and video:
"Lasers! Cats! Hats! Synths! I mean, what else do you want in a pop video? Well, how about my newly perfected teeth-singing technique? Or a loving, yet (sadly) sarcasm-free homage to Mark Hollis? A reference to Inflatable Boy Clams? I give and give, I tell you!"
"I wrote this one in Berlin over Christmas a couple years ago, but I'm hoping it sounds springtime fresh to your well-seasoned ears! Among other things, the lyric documents my lifelong love of radio. I remember driving around with my mother in her green Studebaker when I was maybe 3 years old. The most wonderful pop song came on the car radio, and I tried to ask what it was, but you know, being three and all, and having no Shazam app, I never did get an answer. In a way, I suppose I've spent my life trying to re-write that mysterious, magic song."
"And a nice touch – speaking of Mark Hollis, we've got Robbie McIntosh on 12-string here. Robbie played on Talk Talk's "Spirit of Eden" album. Damn!"