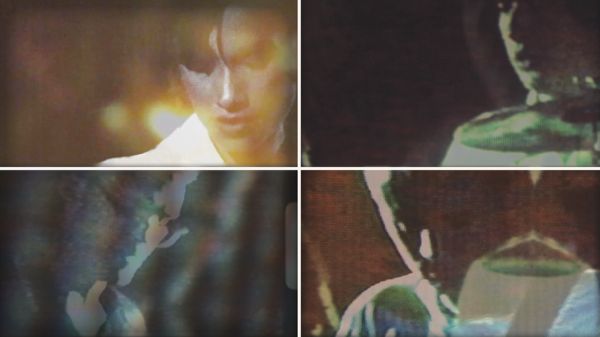 21 April 2017
Alison's Halo; Video Stills: Lee Ann Ryan & Adam Cooper
Alison's Halo was one of the most promising atmospheric guitar acts to surface from the relative obscurity of America's shoegaze movement of the early 1990s (more specifically, Arizona's Beautiful Noise scene, which also produced incredible acts like Half String, Six String Malfunction, Lovesliescrushing, Firecracker, and Dogshow).
With the recent interest in spacey, guitar-driven music and the revival of bands like Slowdive, My Bloody Valentine, Medicine, and Chapterhouse, visionary labels like Brooklyn's Captured Tracks and reissue label Manufactured Recordings within the Omnian Music Group label group have been digging below the surface of the '90s shoegaze genre and uncovering acts that would have otherwise sadly gone undiscovered.
Nearly all of Alison's Halo recorded catalog will be reissued on CD, 2X vinyl, and download (With bonus tracks, artwork, and lyrics) via Manufactured Recording's Shoegaze Archive reissue series on May 19th. You can pre-order the Eyedazzler Reissue here
Alison Halo's small, yet stellar output consisted of 1993's Dozen/Calendar 7" single (released on Independent Project Records), a smattering of high-profile compilation appearances, and the critically-acclaimed full-length, Eyedazzler 1992-1996, released on Michigan's infamous space rock label, Burnt Hair.
In recent years, thanks to the wonders of digital downloads, a handful of live festival recordings were made available, along with a three song collection of home demos from 1996, Jetpacks for Julian,. Songs from the EP will be available as part of the reissue's deluxe digital download.
The group's placement on 2016's massive, five-disc Cherry Red Records' Still in a Dream: A Story of Shoegaze compilation cemented their long overdue – and well-deserved – place in music history, appearing with such luminaries as The Jesus & Mary Chain, Ride, Lush, Swervedriver, Catherine Wheel, and The House of Love.
The bulk of Alison's Halo's material was recorded to various 2-, 4-, and 8-track cassette portastudios in various bedrooms and practice pads. Despite these humble lo-fi beginnings, these recordings document a band attempting to harness the power and volume of their awe-inspiring and incendiary live shows.
For this debut video of "Dozen", the band relied heavily on those legendary live performances, which were filmed to the grainy glory of hand-held VHS camcorders by super-fan Lee Ann Ryan and fellow scene member Brandon Capps of Half String fame, back in the early '90s.
Alison's Halo's guitarist, songwriter, and virgin video editor Adam Cooper, explains, "We played an obscene amount of shows during the early '90s and I really wanted to try and inject that energy of being a young band and the excitement of playing our first shows into the video. When it came time to edit all this random footage, I knew I wanted to create something that looked like we would have made it back in the mid-'90s. You know, like if I had broken into my High School AV Department after hours and just knocked the thing out."
To keep the momentum of the song moving forward and – at the same time – transport us back in time, Adam painstakingly assembled, treated, and layered more than 350 different sections to complete the video.
Singer and guitarist Catherine Cooper remarks, "I think the video stays true to the heady, hazy and – dare I say – druggy vibe of the era. It was an electric time, not only for the band and the type of music we were playing, but also for underground music in Arizona as a whole. All of these amazing local bands were coming out of nowhere, musical connections were being made, and people were anxious to go to the clubs and experience something besides the jangly desert rock outfits of the day. All of this activity bubbled up, in what is normally an indifferent 'I don't give a damn'-type of town. I think the video captures that optimism and that particular point in time perfectly."
Some of the footage includes their debut show, which they shared with a fledgling – and then unknown – opening act, Jimmy Eat World, at an old Oddfellow's Hall in 1992.
Other snippets were pulled from their very first club show, their first festival appearance (1993's Beautiful Noise), and a 1995 performance at the now sadly defunct Hollywood Alley, which found the band at the creative peak of their time together.
Although the classic line-up of the band consisted of Catherine Cooper (vocals, guitar), Adam Cooper (guitar), David Rogers (bass), and Roger Brogan (drums), the video also blurrily blends in various band alumni (original bassist, Lynn Anderson, original drummer, Thomas Lancer, and third guitarist, Scott McDonald), dear friends, and a few longtime fans into the affair.
Adding to the painterly impressionism of the video are countless experimental segments that were shot to Adam's iPhone via various 8mm and Super8 apps that were then filtered through an old tube television bought for $5 at a thrift store.
It's with great pleasure and privilege that The Big Takeover premieres the video for "Dozen."
Official Site
Facebook
Twitter
YouTube
comments powered by