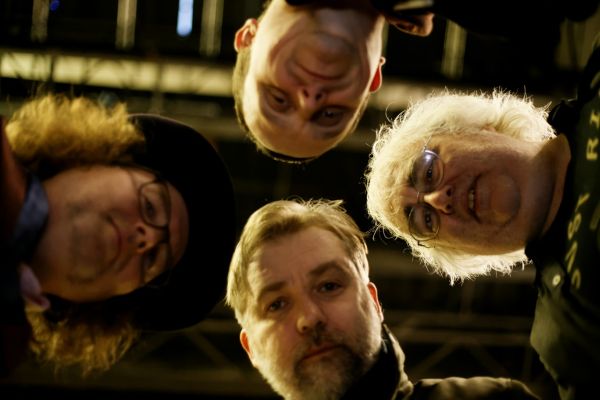 9 May 2017
Divisionists; Photo Credit: Ian Falconer
Now that London's Divisionists have released their debut album Daybreak, it can be seen through all the tracks that this band is among the 'new genre' of power pop classics. Drawing inspiration from 1960s British and American rock music, this four-piece of seasoned musicians have concocted 12 tracks of fine songcraft with solid a performance from start to finish.
The band is releasing a new video for the freshly-announced second single "Dream Landscape", animated by Xeth Feinberg www.xeth.com of Distractionland, who also plays in the psych rock band The Prefab Messiahs
This track steers clear of the Lemonheads' influence that was heard in the title track "Say Can You", but, similar to this first track, remains somewhat in the territory of Teenage Fanclub. The tune is delightful escapist bliss from the first second to the last, with the vocals enhancing an already great feeling the music creates.
"I can only get there in my sleep
Where the people always live in peace
Everything is perfect in my dreams
But every time I wake up
Well, it seems so far away…"
The 'Daybreak' LP is their sophomore offering, following their 2011 debut EP "we play rock music…" http://divisionists.bandcamp.com/album/we-play-rock-music 'Daybreak' features contributions by saxophonist Brian Idd and vocals from both Gwen Knighton and Lisa Makros.
Daybreak was recorded at Perry Vale Studios, The Mill House, and Haiku Sound, where it was also mixed. Brendan Quinn produced the album with assistance from renowned producer Pat Collier (The Vibrators, The Swagger) on board as tracking engineer. The album was mastered by veteran mastering engineer Don Grossinger (The Flaming Lips, Brian Wilson, Franz Ferdinand, The Rolling Stones, Annie Lennox, Sharon Jones And The Dap-Kings).
Frontman Brendan Quinn is best known as the guitarist and vocalist for the cult psychedelic/space-rock pranksters Abunai! (regulars at the Terrastock Festival with three albums and two EPs on the Camera Obscura label). He formed Divisionists in 2010, embracing psych rock, power pop, and reimagined traditional folk ballads. Since then, they've developed a tight working relationship with members of Spacemen 3, Swiss garage-psych pioneers Roy and the Devil's Motorcycle, the Sterling Roswell Band, and members of Swervedriver, Acid Mothers Temple, The Brian Jonestown Massacre, and The Perfect Disaster.
The Daybreak LP is available now on 180-gram orange vinyl, complete with full-color folded insert with artwork and lyrics, via Mount Watatic Records. Find it on Divisionists' Bandcamp
DIVISIONISTS ARE:
Brendan Quinn – guitar, lead and backing vocals, piano, organ
Rob McGregor – drums, percussion
Mark Bennett – guitar, synths, backing vocals
Mike Whitaker – bass, piano, backing vocals
We also invite you to enjoy the video for the first single from this album "Say Can You".
DIVISIONISTS
Website
Facebook
Bandcamp
Twitter
Soundcloud
comments powered by