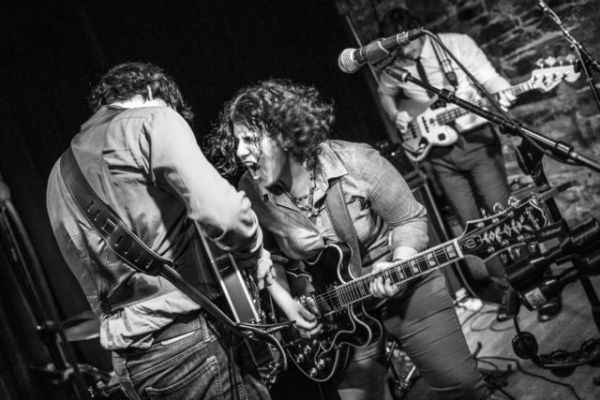 14 February 2018
Aloud; Photo Credit: David Burlacu
Henry Beguiristain and Jen de la Osa have been the core and soul of the band Aloud since their teens in Miami. A shared passion for rock classics like the Beatles, Oasis, Aretha Franklin, and Otis Redding led the pair to start writing and recording their own music. A relocation to Boston where deep ties were formed in the local rock scene, combined with connecting with Aloud's bassist, Charles Murphy, pulled the band together. After one final relocation, this time to Los Angeles, Aloud was brought into razor-sharp focus.
The new single, "Falling Out of Love", released appropriately today on Valentine's Day, reveals an evolution of the band, showcasing their incredible harmonies in a soulful ballad reminiscent of the classic Muscle Shoals sound.
"The song came to me during a very unstable time. Henry and I had several couple friends who'd been together for a long time break up around us," de la Osa says. "It shook us and made me put myself in their shoes."
The video was inspired by a news item the pair came across about the Cassini Legacy mission to study Saturn over the course of 10 years. de la Osa and Beguiristain envisioned Cassini and Saturn as past-due lovers trapped in a loveless situation. The duo perform the song amid scenes of the spacecraft and the planet dissolving their relationship. Haunting sounds of Saturn captured by the Cassini mission end the video.
"Falling Out of Love" is the perfect bridge between the propulsive pop songs the band has been known for, and their upcoming full-length, a more heavily R&B-influenced effort featuring a full horn section.
Also check out the B-side of the single, "Empty House"
Aloud plays Hotel Café in Los Angeles on February 15. Get tickets here
Pre-order "Falling Out of Love at iTunes
Website