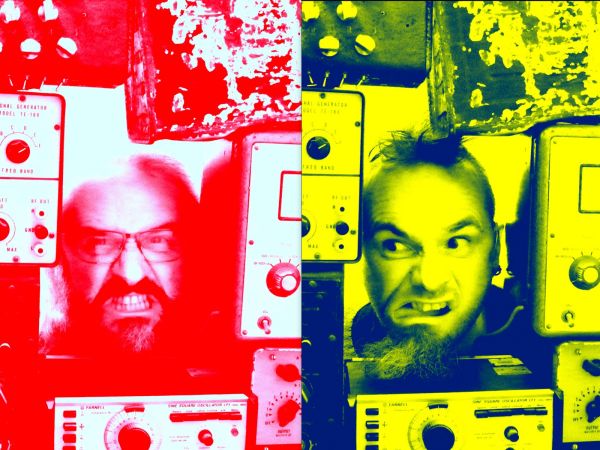 10 April 2018
Flesh Eating Foundation; Photo Credit:
Today The Big Takeover has the pleasure of premiering the video for "Futurelast", the new single from British EBM cyberpunks Flesh Eating Foundation featuring Adam Probert. A dark, cleverly electrified, and gloomy affair, heralding a warning about the future to come, this current offering heralds the band's forthcoming album We Are Fucked, which will be released on vinyl on May 1 via Sonic Entrail Records.
This is the band's seventh official releases in the last ten years, which should especially appeal to lovers of such bands as Nitzer Ebb, Atari Teenage Riot, Skinny Puppy, Alien Sex Fiend, Godflesh, Coil, and Nine Inch Nails.
"Futurelast" is perhaps the most melodic electronic composition on the new album, with Electronic Body Music and cyberpunk tendencies reigning elsewhere. But throughout, their sound is distinct, in your face with thick distortion and a sense of urgency about how we've wasted this planet and how toxic our own society has become.
Flesh Eating Foundation is a loose alliance of musicians and creatives based in Britain's Stafford region. To their credit, they've already accumulated a bewildering array of music, film, and artistic projects to their name, most often with a political message fitting appropriately in the anti-pop camp. The digital release of this new album also includes additional remixes by Inertia, Mr Strange, Paresis, Alien:Nation, and XSRY.
The three main figures in Flesh Eating Foundation are John E. Smoke (songs, noises and shouting, deafness and blindness), The Juddaman (writing, voices and noises), and Jules (axes and shouts), with Mash and Big Un joining on guitars when the mood is right. John E Smoke is known as one of the few deaf/blind musicians working on the scene and can often be seen with his lovable noise loving guide dog JJ.
"The video also ties in with some work I do with charities and groups trying to save old buildings and improve culture in my home town," explains John E Smoke (a.k.a. Jonathon Watkiss), the group's frontman.
Flesh Eating Foundation has been described as electro-punk, experimental electronic punk, alternative electronic. A key element of their sound is their use of homemade and circuit bend instruments. The electro crowd aren't sure how to dance to their music and the headbangers don't think they are metal enough. The punks quite like them though. It has been said that they make too many weird noises and they look a bit strange.
"We Are Fucked represents exactly where the band are at the moment. Two decades into a career and we see no reason to be any less angry, any less outraged at what is happening in the world," says John E. Smoke. "We happen to have built lots of new synths and noise devices to help us express our feelings."
They have collaborated with many like-minded artists who share their passion for experimental noise and horror. They have recently provided the score for the killer clown film Crispy's Curse and John E Smoke is a film maker in his own right. Flesh Eating Foundation has created official remixes for Curve, Angelspit, Junksista, Global Citizen, Tunnelmental, Jordan Reyne, Tony Byker, Afterchain, Kenji Siratori, Kunt and the Gang, Emen, Zeitgeist Zero, Alien:Nation, and Mr. Strange. You'll also them on various compilations and tribute albums for Coil and Ministry, and most recently released an EP of The Fall tracks dedicated to the memory of Mark E. Smith.
The album We Are Fucked will be released as a limited edition on heavyweight vinyl on May 1st. All formats will be available via the band's own Bandcamp site.
TRACKLIST
1. We Are Fucked
2. Having Fun
3. Scumbags And Spent Slags (Refined)
4. Shame
5. Futurelast feat. Adam Probert
6. Punch Drunk
7. Sick Prick Dick Lick (For The Throat)
8. Stand Up And Be Discounted
9. The End
10. Capacity
11. We Are Fucked (Fucked Up Remix by AlienNation)
12. Having Fun (Mr. Strange Remix)
13. We Are Fucked (XSRY Remix)
14. Having Fun (Paresis lulz Remix)
15. We Are Fucked (Inertia Remix)
Catch other sonic offerings via Bandcamp:
Flesh Eating Foundation
Website
Bandcamp
YouTube
Facebook
Twitter
SoundCloud
Spotify
iTunes
comments powered by