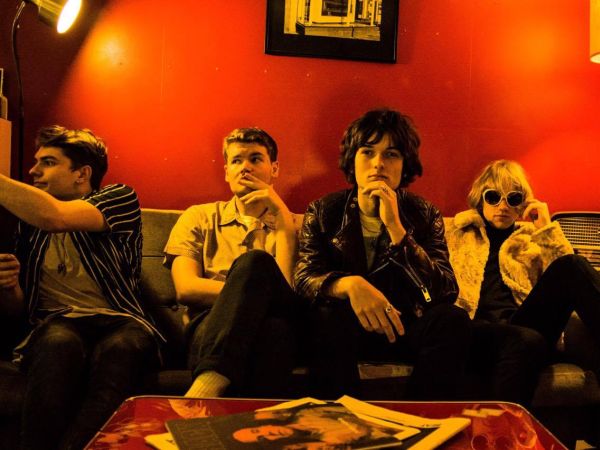 4 September 2017
The Velvet Hands; Photo Credit: Magda Magdalena Jakubik
Garage rockers The Velvet Hands are the ambitious, Stones x Strokes -tinged quartet formed in 2015 while still at college. By 2016 they were buzzing, and in 2017 they're blowing up. New single "Games" will be released on September 22nd via Easy Action Records and iTunes download.
"Games" is another boisterous offering reminiscent of the very best of early 2000s guitar bands, with a little bit of punk and rock 'n' roll thrown in for good measure; a rousing two-fingered salute to freedom, youth, and a belief in doing your own thing.
The Velvet Hands has released a string of standout DIY singles, backed up by blistering live sets starring the two front men, Toby Mitchell and Dan Able, wrestling for the mic, and driven by the earth-shaking rhythm section of Sam Hilder (bass) and Louis Willbourne (drums). There's a hint of Hamburg-era Beatles in their charismatic delivery and Carnaby Street swagger in their effortlessly cool nature.
The Velvet Hands may be fresh out of the traps, but have already been compared to The Damned, The Rolling Stones, and The Strokes, played shows at the landmark 100 Club, been the surprise hit at the UK's premier new music festival; The Great Escape Festival, and earned airplay on British national radio stations Radio 1 and 6 Music.
"Games" is the second single from their debut album, Party's Over, slated for release in early 2018 and follows "Sick Of Living", their Record Store Day 2017 7" which not only virtually won Record Store Day, but was also featured on top-rated UK national TV show, Made In Chelsea.
Firing on all youthful cylinders, The Velvet Hands have art in their heart, visually complimenting their anthems with collectible sleeves. Their energy, tunefulness, and attention to detail is making people sit up and take notice.
The Big Takeover is excited to premiere the video for the restless and rousing "Games." While actually considered to be a lyrics video, the band doesn't do things by half-measures, so the result plays out like a real music video.
In the clip, the bandmates lounge out in what looks to be a sumptuous, but crumbling room of an estate house, sated with food and wine and having a fine time around the Scrabble board. As the evening proceeds, things start to get hazy, with the dining table and walls warping and a ghostly figure materializing… Are the guys going out of their minds – or are they just having too much of a good time?
Meanwhile, the Scrabble tiles spell out the song's words, forming and scattering across the board with speedy verve in a nimble and knowing nod to the lyrics nature of the video.
"Never mind the old bollocks. It's time to pay attention to The Velvet Hands", to quote Rebel Noise.
"The Velvet Hands have returned with an incredible new single," Charlie Ashcroft, Amazing Radio
"Terrific stuff, I've got a feeling this year is gonna be kind to them", Gary Crowley, BBC London
"This is very sweet", Mark Radcliffe, BBC 6 Music
"they're making an unholy noise and we like that a lot", Phil Taggart, BBC Radio 1
"We could be witnessing the emergence of another great British band. Jaw droppingly good", Gigslutz
"Full of bolshy spirit", The NME
Official Site
Facebook
Twitter
Instagram
comments powered by