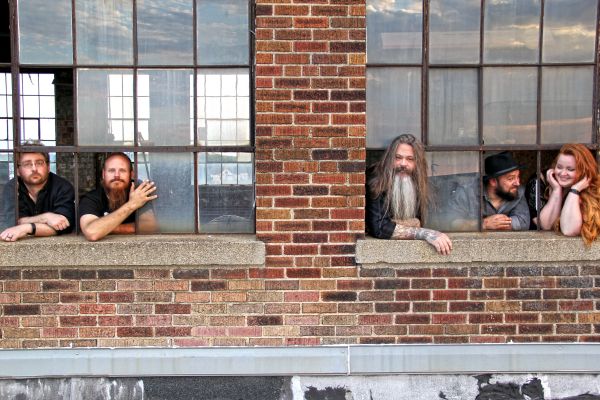 6 July 2017
Cricketbows; Photo Credit: Kyle Sweeney
Dayton, Ohio-based psych-rock band Cricketbows is set to release an EP of new material, titled Communion, September 8th. Produced by Buffalo Killers' Zachary Gabbard, this six-track effort is the band's first release since their 2015 debut album, Diamonds (produced by Grammy Award recipient Brian Olive). The EP will also coincide with the release of a full-length film entitled Where The Ocean Meets The Sky that will feature behind-the-scenes footage and videos for all of the songs from Communion.
"We wanted to showcase our songwriting and our voices and our playing on this one," states Chad Wells, the band's founder and lead vocalist. The band is often categorized as a psychedelic act and though that subgenre of rock is an ingredient in Cricketbows' musical recipe, Communion finds the band climbing out of the psych tunnel and into a more refined style of rural indie rock that borrows equally from '60s and '70s inspirations like The Beatles and The Byrds, as well as '80s and '90s college radio and indie stalwarts like R.E.M. and The Replacements, and alt-rock giants like Pearl Jam and Nirvana, and the band's hometown heroes, Guided By Voices and The Breeders.
The Big Takeover premieres the video for a cut off the upcoming album, "Games People Play." Wells reveals, "This song is kind of what you might call bitter nostalgia. It's pretty autobiographical but it's going to resonate with anybody that grew up in a divorced family or who had to move around a whole bunch. It's about what it felt like as a kid and how it colors the adult that you'll become. Musically, I think the influences for this song come from a bunch of different places but I think my personal love of late '70s and early '80s Songwriter Rock, stuff like Billy Joel and Springsteen, gets mixed in with some of our late '80s and early '90s Alternative College Rock stuff like The Replacements, R.E.M. and Uncle Tupelo. It definitely betrays some of the time I spent playing in punk bands. I think Aarika called it our 'Warped Tour Song' when we first played it. The video for the song is mostly shot by our friend Josh Gwin at a few hometown shows and a festival, mixed in with old 8mm home movies."
Cricketbows' Communion will be available September 8th on CD, digital and streaming formats via Mosquito Hawk Records.
comments powered by