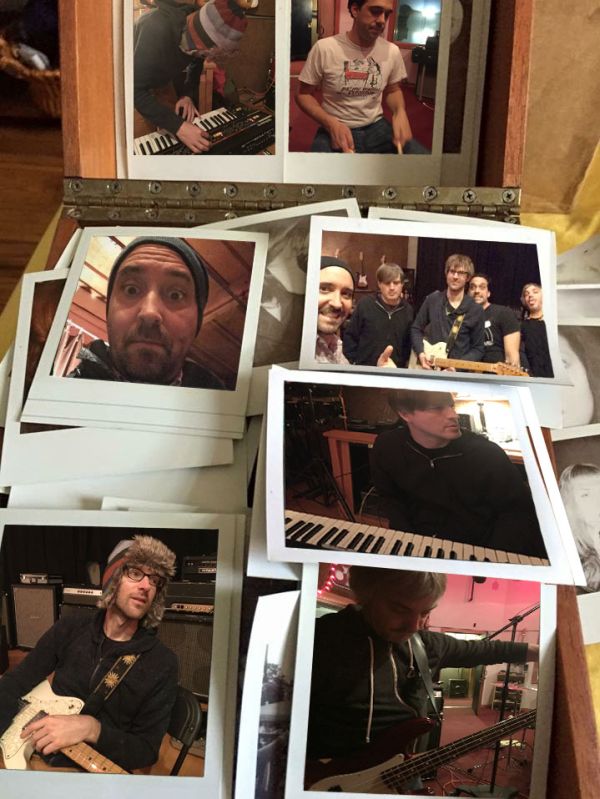 1 December 2016
Film School; Photo Credit: Film School
Film School's latest video for "Give Up" might seem like a raw, green screen time machine back to '90s alt music show MTV's 120 Minutes, but that wasn't necessarily director Adam Marks' original intention. "We started out all hyped up about projecting video of the band on to buildings around LA at night. We did a makeshift green screen shoot at a bar, and some pre-dawn field tests dragging the projector and a huge battery to various locations and shooting onto outside walls. But the results just weren't looking good", says Marks, who also directed Film School's iconic 2008 shoegazey Compare video.
Marks continues, "So I was left with a failed concept and all this green screen footage of the band. Coincidentally, I had just shot some nature footage on a backpacking trip in the Eastern Sierras, and I tried it as a background under the band. Seeing Nyles' guitar glowing with the light of the rising sun – it clicked. I started pulling in clips from the dozens of nature videos I've shot over the last fifteen years. The video materialized into its own thing at that point, much different than the starting idea, but hopefully something interesting and fun."
"Give Up" is from the band's latest effort, the June (EP), the first recording in 10 years by the incarnation of Film School known to fans as the original Beggars line-up (named after the label Beggars Banquet that put out their self-titled LP in 2006). The new album reunites singer/guitarist Greg Bertens with bassist Justin LaBo, guitarist Nyles Lannon, drummer Donny Newenhouse, and keyboardist Jason Ruck.
The band is currently working on a full length set to release in early 2017.