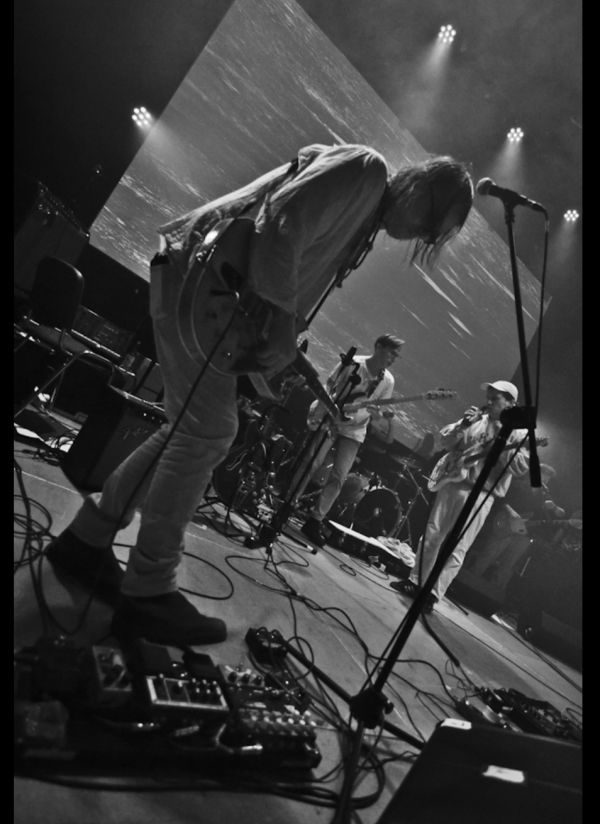 14 August 2017
Pure Phase Ensemble 6 with Anton Newcombe live; Photo Credit: Jarek Sopinski
The Big Takeover is thrilled to premiere "God Drugs", the first song from the forthcoming Live at SpaceFest! album by Pure Phase Ensemble 6 feat. Anton Newcombe of The Brian Jonestown Massacre. Running with a total time of 44 minutes 11 seconds and released by Nasiono Records, this album offers seven new tracks led by this living psych-rock legend.
Every December during Gdansk's illustrious SpaceFest!, an eclectic group of musicians from across Poland, along with a guest curator from abroad, come together as Pure Phase Ensemble. The group's make-up constantly changes, guided by the artistic vision of a new leader each year.
Through workshop improvisation, the musicians produce a set of unique songs during a week-long workshop preceding the festival. The festival then culminates in this music being performed and recorded in real time. Today we see the first track to be produced from this intense creative session.
Earlier this year, we learned how Newcombe, together with Emil Nikolaisen (producer, multi-instrumentalist, and frontman of Scandinavian psych-rock band Serena Maneesh) joined Pure Phase Ensemble on this occasion thanks to a brief documentary prepared by RSU / Agencja Vizualna
Pure Phase Ensemble 6 is comprised of 8 musicians, including the following emerging Polish alternative bands:
Karol Schwarz (7faz, KSAS) – guitar, vocals
Olga Mysłowska (Polpo Motel) – vocals, keyboard
Maciej Karmiński (Jesień) – drums
Marcin Lewandowski (Judy's Funeral, Castlings, Soon) – bass guitar
Jakub Żwirełło (Oslo Kill City, Szezlong) – guitar
Kacper Graczyk (Aiodine, coding) – electronic beats, synths, backing vocals
In past incarnations of Pure Phase Ensemble, the group was curated by Mark Gardener (Ride), Laetitia Sadier (Stereolab), Ray Dickaty (ex Spiritualized), Steve Hewitt (ex Placebo), Jaime Harding (Marion), Chris Olley (Six By Seven), and Hugo Race (The Bad Seeds, The True Spirit). Nasiono Records' very own Karol Schwarz (7faz, KSAS) has been responsible for the Ensemble's musical cohesion from the very outset.
SpaceFest! has figuratively transformed Gdansk into the intergalactic music capital of Poland, presenting the psychedelic genre at its best with shoegaze, Krautrock, and space-rock plus cosmic energy, intergalactic cats, forest goblins, psyched visuals, pagan disco, and more. This workshop was organized by Nasiono Association and Laznia Centre for Contemporary Art and the project supported by the City of Gdansk.
"I want to help establish this as one of the most important cultural events in Poland and totally relevant in Europe. I would like to be involved on a deeper level. I want to integrate culturally, artistically with all of Europe…well not the fascist part haha, not the neocons…not the Polanski eyes wide shut fuckers….the artists," says Anton Newcombe. "It was agreed that I would take part and that I would work as a team with Emil from Serena Maneesh because I fucking love him. He's such a beautiful and talented person."
About the importance of festivals like SpaceFest!, Newcombe states, "turn on the fucking radio…then turn it back off. That shit is bad for you. erm…lets have an urban contemporary rap festival everywhere and see what happens. Let's have more DJ festivals…name one fucking important DJ now that people will respect in 30 years…name a record besides some classic jam that anyone at a club cares about. It's all disposable. We are all trying to create our own culture because Western culture is dead…the baby boomers and their kids and their kids. Kids for the most part are all worthless…..the rest of us have to do what we can in any genre. We make art, we make the rules for us…it's fine to use any tech but don't kid me your bleeps and blobs are great…we will see how it holds up to Kraftwerk in 30 years."
Live at SpaceFest! will be released on September 29, but is already available to pre-order
Catch the above-mentioned documentary at:
PURE PHASE ENSEMBLE
Official Site
Facebook
Bandcamp
Twitter
Soundcloud
YouTube
comments powered by