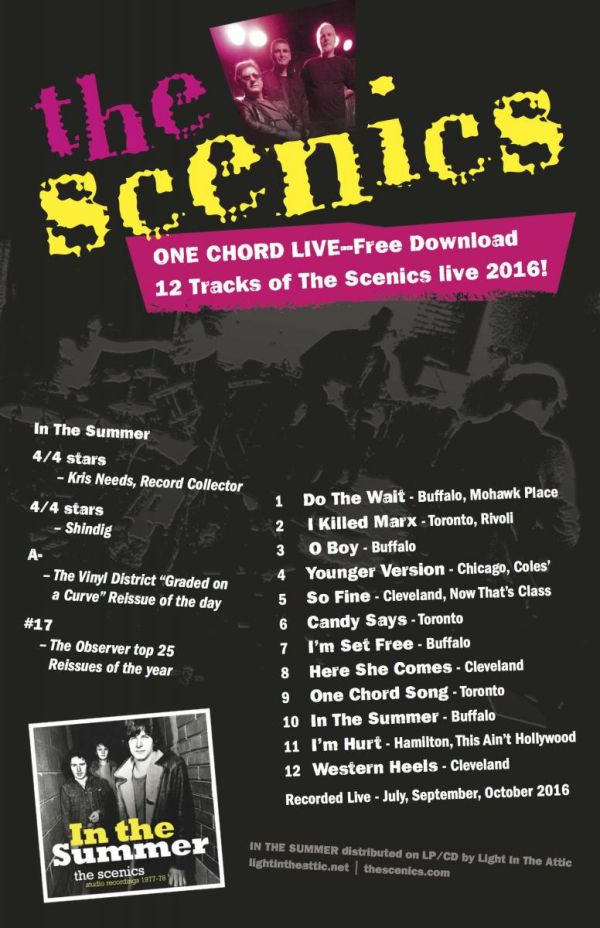 6 June 2017
One Chord Live is a best of The Scenics 2016 tour, which hit Toronto, Hamilton, Buffalo, Beacon, NYC, Jersey City, Boston, Montreal, Detroit, Chicago, and Cleveland.
It features six tracks from the In The Summer album, including "I'm Hurt" and "So Fine", which hadn't been played live since 1981, plus three Velvet Underground covers ("Here She Comes Now", "Candy Says", and "I'm Set Free".)
Also included is the Ken Badger guitar work-out "Younger Version", which was only previously played for a few months in late 1977, and "Western Heels", Andy Meyers' sequel to "Walking In The Desert". The "Western Heels" on this playlist is literally the second time they had played this song since 1981. (The first time was a couple of nights earlier in Montreal. Unfortunately they didn't get a tape of the Montreal show. Or Detroit, and NYC.)
Rounding out One Chord Live is "One Chord Song", which was written in the spring of 2016. It was Andy's dismayed response to how politics were unfolding (unraveling?) south of the Canadian border. Unfortunately, it's a song that is still relevant today…
ONE CHORD LIVE is on point, in the pocket— The Scenics enjoying the hell out of playing live as a trio for the first time since 1979.
The Big Takeover premieres the Velvet Underground cover "Here She Comes Now" by The Scenics. Check it out!
Download One Chord Live for free at Dreamtower Records
The Scenics Official Site