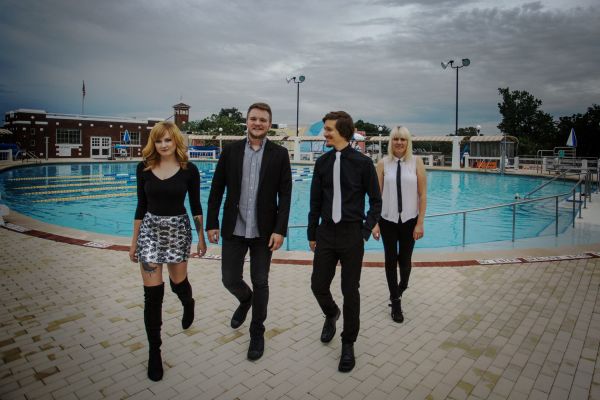 31 July 2017
DieAlps!; Photo Credit: Sarah Modene
Austrian born and raised Cornelia "Connie" Calcaterra and husband/guitarist, Frank Calcaterra, lead Tampa, Florida's DieAlps! Formed in 2012, the band's 2014 self-titled debut EP reveled in swaying baroque-pop with lyrics that reflected Connie's growing up abroad and her life changes in the States.
This year DieAlps!, with Connie now sharing lead vocals duties with Frank, returns with their debut full-length Our City, which arrives August 4th via New Granada Records. The new songs show a band inspired by '90s-era indie alt-rock while getting personal and moving beyond the waltz-tempos and delicate nature of their previous material.
The Big Takeover is pleased to premiere the video for the engaging indie rocker "I Can See It Now." The captivating track rolls along on reflective keyboards swells, waves of fluid to brightly burning electric guitars, emphatic drum smash, and Frank's earnest and slightly melancholic vocal tone.
The inventive video follows a homeless astronaut as he searches for his meaning in life. It's a wistful visual odyssey with a universal message.
Frank explains further that, "I Can See it Now" is sort of an ode to society's outcasts, and the gradual realization that perhaps there is a reasonable explanation for the way this "weirdo" chooses to live. Our friends Preston Marshall and Jeremy Westrate at Walls Bend Productions took this idea and ran with it, giving us this amazing spaceman video. Is he simply an eccentric homeless man with a space obsession? Or is he literally from a distant galaxy, desperately trying to find his way back home? I guess we'll never know."
Official Site
Facebook
Twitter
Instagram
Bandcamp
comments powered by