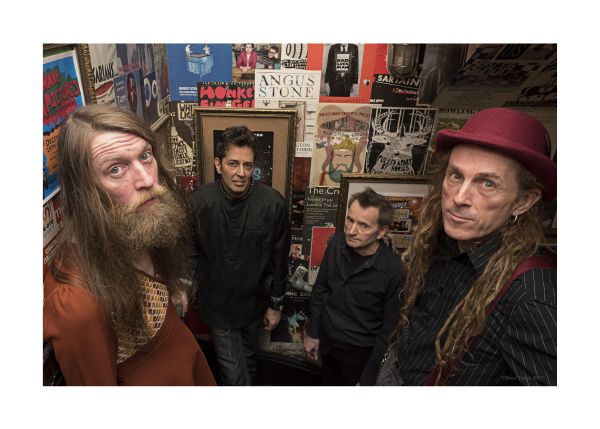 1 January 2018
The Monochrome Set; Photo Credit: Peter Tanish
Minutes from a meeting of the Ministry of Irregular Affairs:
"Now please attend to the issue of The Monochrome Set. The following video was taken clandestinely of a new and worrying project that has emerged from this group."
"It is, ostensibly, a promo for their catchy new single, "I Feel Fine (Really)", from their forthcoming album Maiseworld, released by Tapete Records (Germany) on Feb 9, 2018."
"The footage clearly shows a Minima Pupa Mechanica in a variety of deranged activities which appear to be some sort of training for a public appearance. Included are also episodes of test notes being taken, speech bubbles spouting, and a cybernetic engineer playing with internal organs. This movie is rumored to be the work of the notorious director Tony Potts, who was with the band from its start in 1978."
"We have also now acquired a pamphlet associated with this project, which indubitably shows an insidious intent, see below:"
Congratulations on owning this fine quality product.
Maisieworld is distilled from the pungent flowers of artistic mischief and represents the acme of sonic consummation.
Welcome to Maisieworld!
Your host, Maisie, will guide you through a succession of songs that highlight the volatile, capricious and ultimately unstable nature of The Monochrome Set. New doors lead into hitherto unexplored corridors, where saxophones, trombones, and trumpets claw at you from the Harlem-brownstone walls which pulsate with the ceaseless beating of animal skins.
Echoes from a bygone era of expertise race around you as you careen down these sewers of sound, lead guitar solos leap with rusty scimitars, strange organs slither over you on the damp roof, a growling bass snaps at your ankles, a misshapen banjo scuttles across your path, and, all the while, barbarians shake the seed-filled skulls of the dead.
Playful vocals sing of your frail organic nature, the sad dreams and hopes that you entertain, and the dismal decisions you make. Scenes of a different imagination tear you like brittle canvas and rearrange your portrait into another's fantasy.
Upon your exit from Maisieworld, you will be pleasantly surprised to find that your vessel is now filled with abnormal thoughts.
Caution: May contain nuts. And bolts.
comments powered by