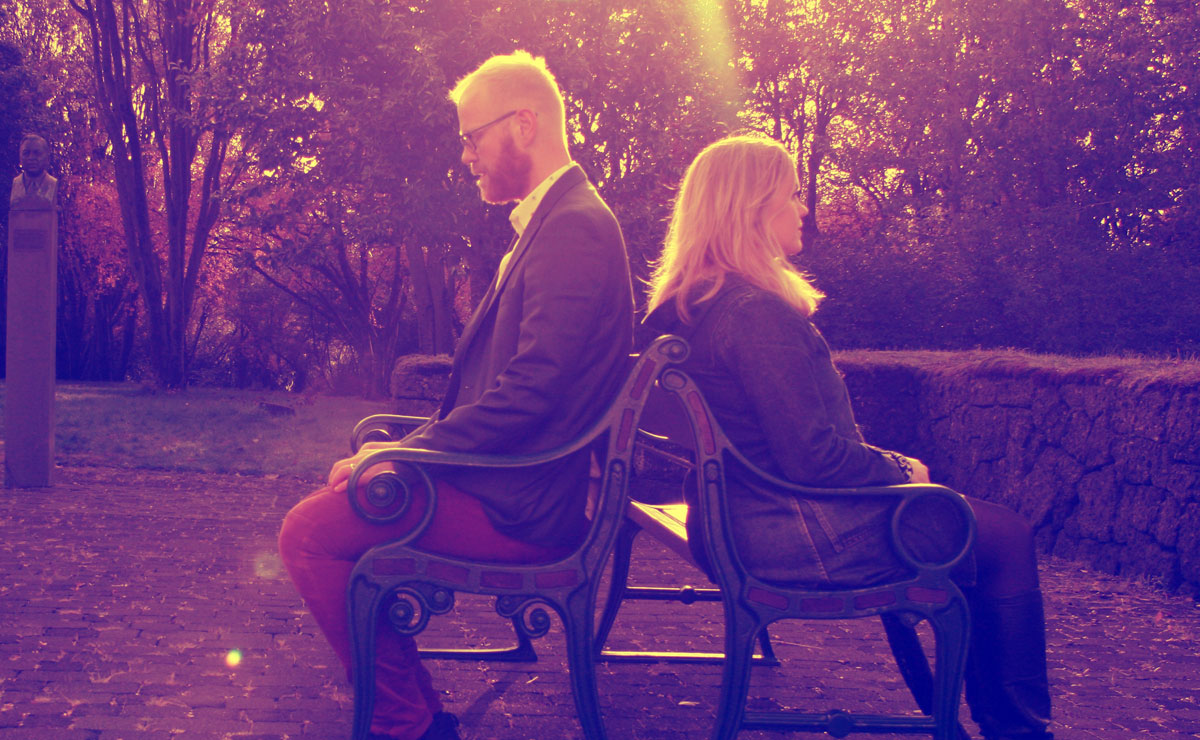 4 May 2016
With the sweeping Icelandic landscapes that surround them, the backdrop for Jane Telephonda's new video and single for "Into the Light We Go" was there for the taking. "We took a 30-minute drive out of Reykjavik City on a tranquil and beautiful but bitterly cold day in January," says Ivar Jonsson, one half of the husband-and-wife duo. "We only had six hours of daylight to work with, as the sun sets at four o'clock in the afternoon this time of year. The next day, still shivering from the cold, we woke up to the devastating news that as we had been shooting the video, David Bowie had died. It broke my heart. The world will never be the same."
"'Into the Light We Go' deals with the fact that we don't know the answers to the most fundamental questions in the universe; the meaning of life or its purpose. What we do know, however, is that love is the answer. It makes everything worthwhile," said Ivar. "So, we must go on, with love and empathy as our guiding light."
Based out of Kopavogur City, Iceland, Jane Telephonda are husband and wife Ivar Jonsson and Asdis Rosa Thordardottir. Inspired by the sounds of the classics to the contemporaries, including Bowie, Sufjan Stevens and Wilco to Grizzly Bear, Of Montreal, and Queen, Ívar began writing music at age 16. Songwriting quickly became an addiction to him and a way of life, as he spent hours each day with his guitar and four-track recorder. During the next 15 years, he wrote on average a song a day, providing him with the practice necessary to hone his songwriting skills.
In 2011, he started writing his first ambitious release, the 2014 concept album Revolution in the Elbow of Ragnar Agnarsson Furniture Painter. Subsequently he received a nomination for the 2014 Icelandic Music Awards and the album was received with rave reviews in the US coinciding with its theatrical stage adaption at the Minetta Lane Theater in NYC in the summer of 2014.
Asdis was featured on the Revolution as well, and with the birth of the couple's third child last year, making music at home became a necessity. Says Ivar: "In a way our hectic family life became an inspiration and a motivation for recording and writing songs, because we didn't want to abandon our passion for music. Certain time had to be allotted for anything that did not involve dirty diapers, and that provided us with the frame necessary to get things done."
"Into the Light We Go" is Jane Telephonda's second single on Brooklyn-based indie label Mother West. Jane's first single, "Transmuted Saltness," was out worldwide last November. It's a powerful, thrilling song, and this video knocked us out. Do watch and listen!