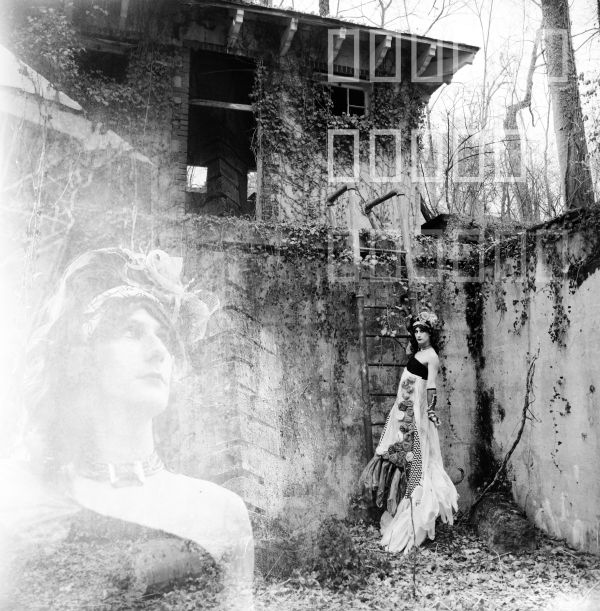 24 July 2018
Jeanne Vomit-Terror – Photo Credit: Chad Stockfleth
Empire Waste, out August 3rd via Desperate Spirits, is the first full-length from the enigmatic avant-garde chanteuse Jeanne Vomit-Terror, co-founder of the Resonant Hole collective that spawned acts such as Idiot Glee, Street Gnar, The Teenagers Responsible, and Silverware, as well as the cult film What Is a Hole?
Though sparse, Vomit-Terror's discography is eclectic, encompassing electro-pop ("Mirror School," which boasts a suitably trashy Robert Beatty music video), Italo disco ("The Seat of Same," touted by Rub N Tug and Mike Simonetti, remixed by the latter), and industrial noise ("The Quixotrix Tapes").
The eight songs that comprise Empire Waste showcase Vomit-Terror's fearless weirdness and pop ingenuity.
"Jokes Come True" wheels a sleek dystopian Drexciya groove into a joyous, synthetic Gloria Estefan refrain. It's a sonic chop-shop job of Detroit techno and Latin freestyle with gaudy detailing of Egyptian modes and breathy insouciance.
The message from Vomit-Terror is, "Absurdity is the fundamental element of this reality, and if you learn to manipulate it like rolling mercury in your hands, you can score some real points in causality (and reverse causality)."
Tour dates:
07/30/2018: Lexington, KY at The Green Lantern Bar (w/ Italian Beaches, Kee Avil)
08/03/2018: Lexington, KY at The Green Lantern Bar (Record Release Show)
Facebook
Twitter
Bandcamp
Record label Desperate Spirits