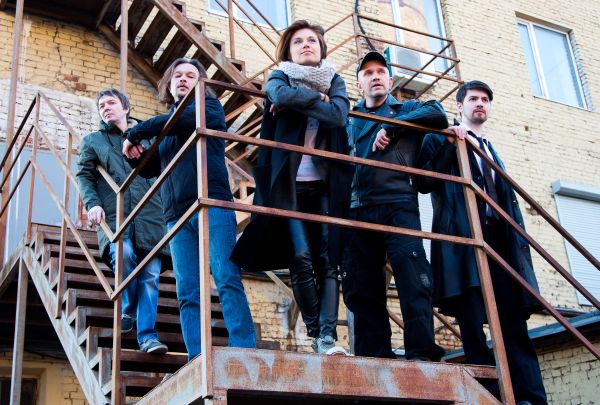 8 November 2016
Sounds of Sputnik; Photo Credit: Tatiana Kalitkina
As Moscow's Sounds of Sputnik gear up to release the New Born Remixed EP via German boutique label Emerald and Doreen Recordings, we are thrilled to premiere their new video for "Light Scheme" feat. Ummagma (Sputnik Remix), originally featured on their debut New Born LP.
Like for this remix, the forthcoming EP will see the tracks "New Born" and "Light Scheme" flipped on their head with completely fresh re-interpretations by Japanese Red Bull artist Haioka, Italy's Irregular Disco Workers, Dim Zach, David Garcet, Headpocket and Malcolm Holmes of Orchestral Manoeuvres in the Dark.
The debut New Born album was re-released earlier this summer via Texas-based Moon Sounds Records, having already earned the band a Jagermeister Indie Music Award (the Russian equivalent of the Mercury Prize) and Best East European Video award at the 2014 Independent Music Video Awards in Australia, not to mention making them the first former Soviet band to hold in the CMJ Charts (American college radio charts) for a massive seven weeks.
This remix is an invigorating motorik take on the original, with an added warbling effect on the vocals, boldly taking Sounds of Sputnik into trip trance territory with a mellow trailing guitar keeping balance. This video was filmed in Barcelona by Roman Kalitkin, the brainchild and frontman of Sounds of Sputnik.
Sounds of Sputnik have become well known in the underground scene thanks to their ethereal angular guitars, powerful drums, lush bass, and gossamer vocals contributed by Shauna McLarnon and Alexx Kretov from Canadian-Ukrainian dreampop duo Ummagma, who also co-wrote, recorded and produced the New Born LP.
This album features contributions by several legendary guests, including drummer Graham Bonnar (Swervedriver*/ *Brian Jonestown Massacre), Malcolm Holmes (Orchestral Manoeuvres in the Dark), psych rock producer Fran Ashcroft (Damon Albarn, Lords of Acid), Russian producers Morozov and Oleg Mezherovsky, and Brazil's Mind Movies.
Sounds of Sputnik New Born is available both digitally and on CD on Bandcamp. New Born Remixed EP will be released across quality online music platforms.
Facebook
Twitter
Bandcamp
Ummagma Bandcamp
YouTube
Soundcloud
Reverbnation
We also invite you to drift away in the shoegaze lull of "Blizzard", the new video by British videographer Jason Sheppard, presented here:
comments powered by