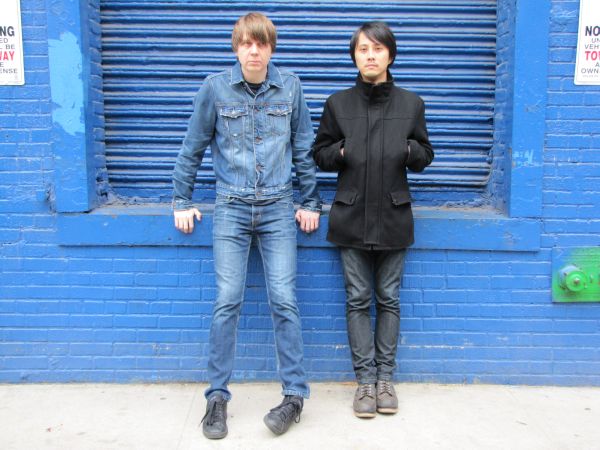 12 September 2017
The Dayoffs; Photo courtesy of The Dayoffs
The Big Takeover is a big proponent of diversity and you'll see from the musical explorations contained in our many pages of the magazine, and the many articles online, that we often roam around the world to reveal our discoveries from different countries. Today we introduce you to a new NYC-based band involving a Russian component and Japanese aspect. A duo. In tandem. This is is The Dayoffs and their debut album is slated for release at the end of October through German boutique label Emerald & Doreen Recordings.
The first single from this album is called "Love Love Love" and hey, that is certainly what it feels like. Sure seems they really know what this is all about. The song is exacting and exactly recommended for listening – short and punchy with a big impact, feel-good vibe, and infectious melody that leaves you asking for more (don't worry, we have a few bonus videos for you below). This band has a boundless and positive energy, resonating good vibes through their music.
The accompanying video is lo-fi, showcasing The Dayoffs own life and environment in New York City, where both band members now live. "Who are these two fine musicians?", you may ask.
The Dayoffs is a collaboration between Vladimir Komarov and Atsuo Matsumoto. Vladimir Komarov is from the bands Punk TV and Hot Zex, both pioneering collectives with respect to the Russian shoegaze and indietronica scene. Apart from being a musician, he is also a sound producer, DJ, and journalist.
Atsuo Matsumoto is a Japanese musician and sound engineer, and currently also a member of Andy Chase's Camera2 band.
Vladimir and Atsuo met at the legendary Stratosphere Sound Studios, NYC in 2012, when Vladimir was tracking on a project and Atsuo was engineering the sessions. Soon they teamed up to produce a bunch of records. In fact, they both worked with James Atkin of EMF on his debut album Country Mile, as well as with the Voshod album by Russian post-punk heroes Manicure.
Always busy working on other people's music, Vladimir and Atsuo (incidentally, born on the same day) recorded some instrumental improvisations during studio downtime. When the duo realized they had enough ideas for a debut LP, they chose to call themselves The Dayoffs (from constant lack of studio time for their own music) and set about completing the record.
More than anyone else, The Dayoffs aesthetic seems to gravitate towards that of Teenage Fanclub, which is interesting considering that it was at the band's Manhattan's gig in the summer of 2014 that Vladimir Komarov and Atsuo Matsumoto decided that they should try create rock music together, signifying Komarov's re-emergence to his long-standing tradition of writing rock music.
"This is a rock album. Speedy, noisy but lyrical – as guitar as could be. We made it on purpose. It was like a play with an old toys – sweet, nostalgic and a big fun. Maybe too sweet sometimes – but I don't mind," explains Komarov. "Songs came out from nowhere, it was a lot of improvisation and no calculation at all. It took us more than two years to complete this 30 minutes record – we are perfectionists. Every time I listen it back I have nothing to add. It means it is off the table and I'm very exited to realize that our next record will follow different direction.".
'The Dayoffs' LP releases on October 29 via Emerald & Doreen Recordings and will be made available across all the regular digital sales and streaming platforms.
TRACK LIST
01 15
02 Love Love Love
03 Bottled Rainwater
04 I Can't Believe I'm Dead
05 Nobody Knows Her
06 Two Actors In A Cage
07 A Million Days
08 Next To Nothing
09 Illusion
10 State Of Madness
11 Eleven
We also think you should check out another video they made for this release for their track "State of Madness", which was filmed by Fedor Lyass, a prominent Russian movie director and cameraman.
Also check out this track by Vladimir's former band Punk TV.
THE DAYOFFS
Facebook
YouTube
Souncloud
comments powered by