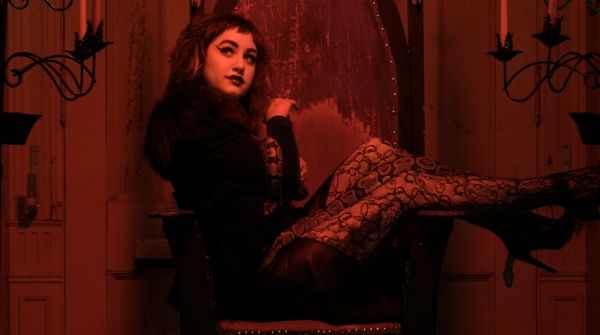 7 June 2017
Willa Rae; Photo Credit: Jacob Henesbaugh
Willa Rae & the Minor Arcana is a musical troupe conceived by Willa Rae Adamo, a 23-year-old Detroit-based Americana singer-songwriter. Adamo pairs violent rhythmic banjo with outlaw country electric guitar, then stains the mix with a haunting string section to create her own unique brand of gothic gypsy rock and soulless soul.
A storyteller at her core, Adamo's cutting vocals deliver archaic, yet modern tales of love gone bad. Citing inspiration from Lucinda Williams, Mischief Brew, and The Devil Makes Three, Adamo weaves her own personal mythology while reckoning with the ghosts of her past.
Their long-awaited first music video features the crowd-favorite song "Love's Wastin' My Time", the B-side of their first EP _XIII that was released in May 2016. The blithe video was directed by Detroit-based filmmaker Jacob Henesbaugh. The piece offers a tongue-in-cheek commentary on romance, rewriting the narrative of the femme fatale and honoring the darkest parts of the songwriter.
The band is fresh off their first national tour, but have been cutting their teeth in the Detroit music scene for the past two years, crafting a live show that can hold its own against the grimiest of Midwestern garage rock, and an acoustic set that will captivate the most thoughtful of listening ears. They are proud to have shared the stage with up-and-coming national artists White Mystery and local legends including Third Man Record's Danny Kroha and Motown's Black Merda. Expect a full length record by the year's end and expect it to be just as dark and riveting.
Official Site
Facebook
Bandcamp