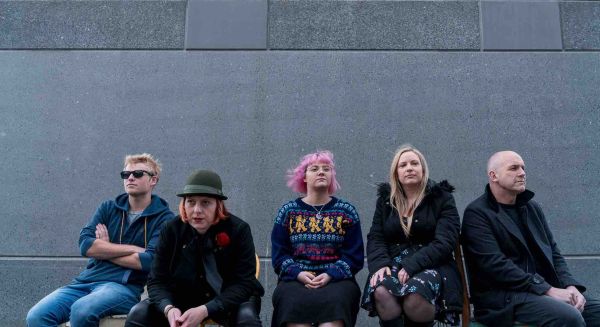 26 December 2017
DateMonthYear; Photo Credit: Brooke Baker
As we know, great music knows no boundaries. East, West, North and South – it's all good. Recently The Big Takeover has paid notice of some great sonic output coming from New Zealand, recently introducing you to artists like Bruno Merz, System Corporation, Aldous Harding, and Dreams Are Like Water.
Today we have the pleasure of bringing yet one other band from the Green Isle(s) to your attention – DateMonthYear present the video for their forthcoming single "March". DateMonthYear is a Hamilton-based outfit involving Trevor Faville, Emma Koretz, Brooke Baker, Hayely Schwass, and Tyler Leet.
Not long ago, the band also released another fantastic track – "Numbers". While the forthcoming single bears a striking resemblance to Low with hints of Cat Power, the quintet steer closer to Sharon Van Etten and Feist on their previous single. DateMonthYear is a welcome addition to any playlist and a great taste of what's to come for the band in 2018 as they whet listeners' appetite with dynamism, consistency, and sincerity. Free, harmonious, and skillfully crafted compositions. If this is your bag, get on it.
If you've even had a quick listen to DateMonthYear's back catalog, you'll notice that there is quite a bit of diversity there, but that these songs have one thing in common (apart from the line-up of the band itself) – these Kiwis manage to cleverly combine hooks, unique tunes, and to approach their songwriting with an interesting build-up and interesting high/low dynamics.
It's no mistake that their tracks also sound rather cinematic atmospherically, especially given the fact that they have successfully placed numerous tracks for sync licensing purposes here and there.
To produce and film their new music video, the band worked with local production team Bad George, award nominees at the HP 48 Hour Film Festival, with production crew member and also band member Brooke Baker nominated as best director and best female director, and Jay Baker nominated as best scriptwriter. While this video is Bad George's first foray into making music videos, the video has already received accolades at local and national film competitions.
As explained by Trevor Faville, "The lyrics reflect the the transition from grief to hope when you lose someone suddenly. The shock when someone passes, and the questioning of your own identity and purpose, and then the point when you start to look forward again – whether it be in the sense of a traditional faith, or just about reconciliation with how life is. I think its quite a positive song, ending on an uplifting note."
She wrote a letter to God and said "its nothing personal"
And if its nothing personal,then its nothing at all
She wrote a letter to God about nothing special
And if its nothing special, then its nothing at all
You're born,you live,you die, you're born, you live, you die
You're born, you live, you die, you're born, you live, you die.
How can it be that nothing's an accident,
And if nothing's an accident, then we're nothing at all.
We're writing letters to God saying nothing personal
And if there's nothing personal, then there's nothing at all
You're born, you live, you die, you're born, you live, you die
You're born, you live, you die, you're born, you live, you die.
There's A place for us, somewhere
There's a place for us, somewhere
Theres a place for us, somewhere
There's a place for us
Somewhere
Somewhere
"March" will release on January 26th and is already available to order via the artist's Bandcamp
We're also pleased to present you their single "Numbers", a reflection on today's society and how people's lives revolve around numbers – those of your mortgage or rent, income, supermarket shopping, and simply hoping that you have enough to pay for groceries and bills each week.
DATEMONTHYEAR
Bandcamp
WordPress
Twitter
Facebook
YouTube
SoundCloud
Spotify
iTunes