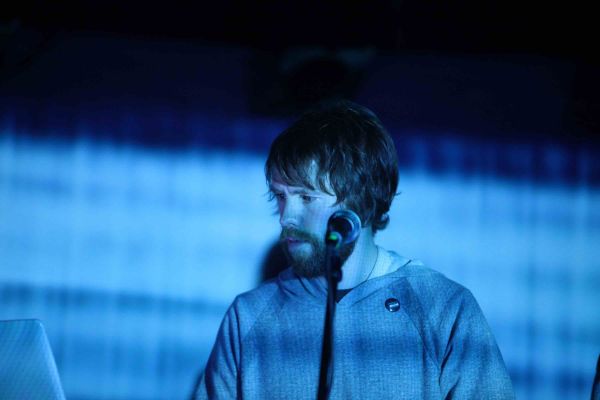 6 December 2017
Brian Wenckebach of MIS+RESS; Photo Credit: Stephen Yang
In our current music scene, independent labels play a hugely critical role in bringing new music to the masses. It is especially important to take note of and share the music being put out by some of the ones we admire and wish to support. We recently learned of Texas-based Somewherecold Records when dream-pop duo Ummagma signed to them for their latest LCD EP (with contributions from guest artists Robin Guthrie of Cocteau Twins and Dean Garcia of Curve). Today The Big Takeover has the pleasure of introducing you to another artist on the Somwherecold label roster – MIS+RESS.
A seductive image may come to mind when hearing this name, but this is actually the solo project of Brian Wenckebach. You may know this name from the NYC music scene, where he was a producer for over a decade, working with the likes of Ulrich Schnauss and heading up projects Elika and Thee Koukouvaya (both released by shoegaze powerhouse label Saint Marie Records).
"Nested Infinities" is the second single off of MIS+RESS' self-titled debut album, a 10-track offering is both radiant and stunning. Such a fitting use of these words in association with this music. This song in particular is the closest you'll come in this modern day in age to a song you'd want programmed into your personalized music box. Dreamy, pensive, and floating in the ether, the same way as some of the best output of Brian Eno, Michael Brook, and Mike Oldfield, for instance. This is sonically intricate in the same way that lace is, created meticulously, flowing seamlessly, and elegantly produced.
This song may otherwise sound like it was made on synthesizers, but the video shows how Wenckebach, with the exception of the sweeping ambient pads, creates the music entirely on guitar. An impressive feat and the rule of thumb throughout this brilliant album, which oscillates in an atmospheric opaque reverie.
"This is much simpler and more direct in the sense that I utilized a very limited palette (simply guitar with a few effects). My other projects have emphasized vocals and electronics and had hundreds of layers," explains Brian Wenckebach. "Electronics used to feel rebellious to superimpose on shoegaze/dreampop. Now, it is commonplace. The danger is gone. I figured I would go in the opposite direction."
Inspired by The Durutti Column, MIS+RESS' 'post-ambient' debut album ought to also appeal to lovers of Land Observations, Harold Budd, Loscil, Nils Frahm, William Basinski, Noveller, Rafael Anton Irisarri, Susumu Yokota, and Tim Hecker.
MIS+RESS' album is the latest release on Somewherecold Records whose blossoming collection of dream-pop, nugaze, and ambient offerings includes releases from Ummagma, The Corrupting Sea, The Beremy Jets, Aidan Baker, and Yellow6.
This MIS+RESS album is a limited edition with only 100 copies available on CD and 50 on cassette, available exclusively through Somewherecold. They are available for pre-order now via the label's Bandcamp.
TRACK LIST
1. The History of Fishes
2. Nested Infinities
3. OBAFGKM
4. Derealization
5. The Great Dying
6. Eligible Receiver
7. No More Parties
8. Mr. Bikinis
9. The Absolute Territory
10. Main Sequence Phase
Also check out the previous video for "The History of Fishes" and the whole debut album, which has got to be one of the most gorgeous offerings of 2017.
MIS+RESS
Facebook
SoundCloud
Bandcamp
Twitter
Vimeo
comments powered by