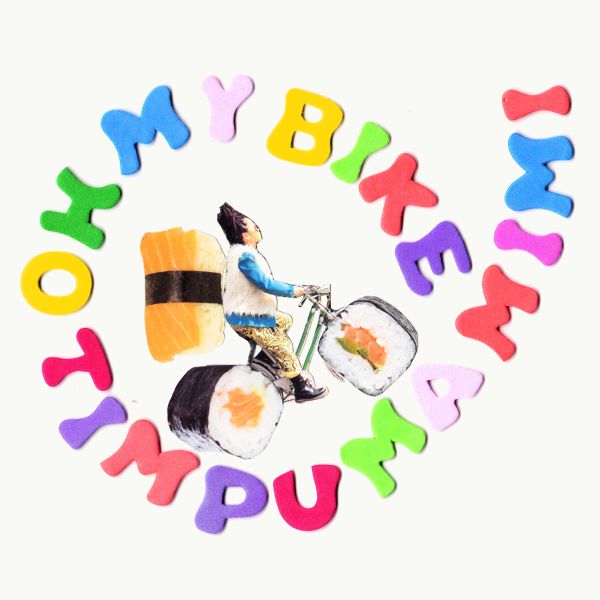 9 May 2017
"Oh My Bike" by Tim & Puma Mimi
Tim and Puma Mimi figured out how to connect cucumbers to synthesizers – and then actually played them! And, of course, they made a pulpy mess every time they were at it. As far as it's known, they were also one of the first live acts to add Skype to their on stage set-up, and used it so that Puma Mimi could perform remotely from her Tokyo kitchen.
Recently, a couple of their songs appeared in one of the most spectacular scenes in the latest Ghost in the Shell film rendition. This quirky, unorthodox duo are Mouthwatering Records' darlings: Tim & Puma Mimi.
Mimi comes from Tokyo and Tim is a Zurich native, hence they often refer to themselves as sushi served with Swiss chocolate for Wasabi. Although, they've been spotted making music all over the globe, they live and operate out of Switzerland and are hardcore advocates for improving conditions for bike lovers in Switzerland.
The Big Takeover is honored to be able to celebrate the love for biking culture with them by premiering their video for "Oh My Bike". Enjoy the ride!
To find out more about the duo's MO, here's a quick Q&A with Puma Mimi:
We heard that you had a couple of songs in the new Ghost in the Shell movie – When did you find out about this?
MIMI: Yes. Two songs; "Ohayo Baby" and "Acchi Kocchi". We got an email, one morning, from a friend in NYC. He saw the movie and said that Tim & Puma Mimi are in the credits!! Crazy! We didn't know that we're in it!
Did you hit the movie theater right away?
MIMI: Yes of course! The songs are in a sound collage while she is diving into the inner city with all these sounds of noisy advertisements, cars, and clubs. It was very, very difficult to spot them.
Are you Ghost in the Shell fans?
MIMI: To be honest, we haven't watched the legendary anime yet…..
What do you think about the controversy surrounding the whitewashing of the lead?
MIMI: I don't like real-life remakes of anime works. But I'm not so critical about whitewashing since the anime character (Motoko Kusanagi) in the original anime doesn't really look like a typical Japanese woman (hair & eye color, proportions, etc.). I mean, does she? Of course, it could be phonetically much cooler if she spoke Japanese.
So what about bikes? Tell us a bit about how much you love them and about this new video that we got to share, here?
MIMI: This song was made when we went on a recording/holiday trip to Menorca, Spain. We rented bikes, and my bike was a bit broken. So, I couldn't enjoy cycling on this beautiful island. I compensated by by dreaming up "easy cycling". Back at home, in Zurich, we usually ride our second-hand bikes. We love them a lot. But riding bikes in Zurich is not always comfortable. We hope the situation will be improved soon. So, this song , in a way, is us promoting bike riding culture.
comments powered by