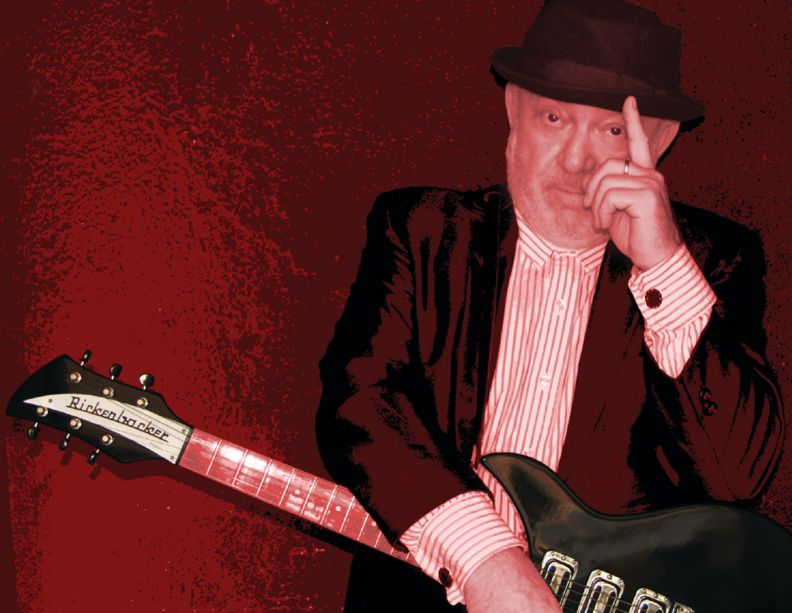 29 May 2018
Arthur Alexander – Photo Credit: Jeremy White
Born and bred on the rise of rock 'n' roll as a young kid in Warsaw, Poland, Arthur Alexander heard that sound and knew instantly this was big; this was no fad, this was the sound of rebellion. After leaving Poland, Alexander went to America, the land of freedom and opportunity, and helped to form The Poppees, one of the hottest bands in NYC at the dawn of the punk rock era, a time that changed the face of rock 'n' roll forever.
The Poppees, often dubbed "The Fab Four Of The Bowery," played regularly at Max's Kansas City and CBGBs and became the very first new artist signed by the visionary Greg Shaw to his Bomp! Records label. The band accrued critical acclaim and ignited the just-burgeoning American power-pop scene.
Leaving The Poppees behind, Arthur founded his new band, Sorrows, one of the most supercharged power-pop bands NYC had seen, staggering their audiences with blistering live shows. Sorrows scored a label deal with CBS Records and released two albums, their debut Teenage Heartbreak becoming a classic. After Sorrows disbanded Arthur worked as an independent producer helping the next generation of young artists realize their musical vision.
Finally, after years of producing others, Arthur's own music came calling again. He selected a batch of songs he had written over the years and recorded his first solo album, One Bar Left, inviting his friends from Sorrows, Wojtek Pilichowski Band, Prima Donna, Dr. Boogie, and The Blessings to come along for the ride.
The Big Takeover premieres the video for the opening salvo on the album, the wry, but raucous "One Bar Left." Alexander divulges details behind the song, commenting, "As fate would have it, 'One Bar Left,' not unlike my rock & roll career, was born on New York City's Bowery Street, steps away from CBGBs. My cell phone fell into a rain puddle and that one bar was all I ever saw again from its battery, and the phone died a slow death. The opening guitar riff, and the foundation of the song came first, then came the chorus, all of it just music – no lyrics. I was looking for a cool title that could serve as the main chorus line… and suddenly, a Eureka moment!… there it was, laying on the table, right in front of me! My phone… with the damn one_bar_left!!!"
Alexander concludes, "A couple of hours later the song was finished! I recorded all the basic tracks and later my drummer, Luis Herrera, came in and knocked it out in 3 takes. I was really struggling with the guitar solo. Everything I was coming up with sounded like your old and tired rock guitar solo: lame ass, and instantly forgettable. So I thought – when was the last time anyone heard a rock & roll solo on a 12 string electric guitar? What would Pete Townshend play on The Who Sings My Generation album track? Out came my 12 string Rickenbacker, split between a slightly distorted Orange AD30 and Vox Pathfinder amps. And to make it all sound… ummm, different?… I threw the Vox amp into a clothes dryer, closed the lid, and … bingo!… It was different alright! Wow, who knew?!? LOL!"
Arthur Alexander's One Bar Left is out now on vinyl, CD, digital and streaming formats via Dead Beat Records.
Order the limited edition red vinyl, black vinyl, and CD here
Order the digital via iTunes
comments powered by