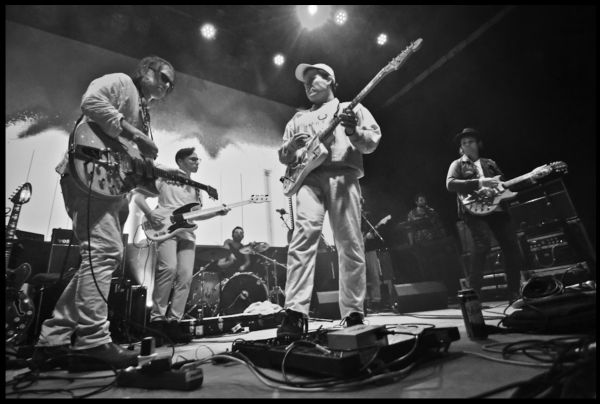 24 January 2017
Photo Credit: Jarek Sopinski
Every December during Gdansk's illustrious SpaceFest!, an eclectic group of musicians from across Poland, along with a guest curator from abroad, come together as Pure Phase Ensemble. The group's make-up constantly changes, guided by the artistic vision of a new leader each year. Through workshop improvisation, the musicians produce a set of unique songs during week-long sessions preceding the festival. The festival then culminates in this music being performed and recorded in real time for a CD issue to be released the following year – Something to look forward to this 2017.
This time around, the group was led by a true legend, Anton Newcombe of The Brian Jonestown Massacre, together with Emil Nikolaisen (producer, multi-instrumentalist and frontman of Scandinavian psych-rock band Serena Maneesh), for this project.
Today we are thrilled to premiere a brief documentary about this whole experience, filmed by RSU / Agencja Vizualna
Pure Phase Ensemble 6 is comprised of 8 musicians, with the following 6 from emerging Polish alternative bands:
Karol Schwarz (7faz, KSAS) – guitar, vocals
Olga Mysłowska (Polpo Motel) – vocals, keyboard
Maciej Karmiński (Jesień) – drums
Marcin Lewandowski (Judy's Funeral, Castlings, Soon) – bass guitar
Jakub Żwirełło (Oslo Kill City, Szezlong) – guitar
Kacper Graczyk (Aiodine, coding) – electronic beats, synths, backing vocals
In past incarnations of Pure Phase Ensemble, the group was curated by Mark Gardener (Ride), Laetitia Sadier (Stereolab), Ray Dickaty (ex Spiritualized), Steve Hewitt (ex Placebo), Jaime Harding (Marion), Chris Olley (Six By Seven), and Hugo Race (The Bad Seeds, The True Spirit). Nasiono Records' very own Karol Schwarz (7faz, KSAS) has been responsible for the Ensemble's musical cohesion from the very outset.
SpaceFest! has figuratively transformed Gdansk into the intergalactic capital of Poland, presenting psychedelic music at its best with shoegaze, Krautrock, and space-rock plus cosmic energy, intergalactic cats, forest goblins, psyched visuals, pagan disco, and more. This workshop was organized by Nasiono Association and Laznia Centre for Contemporary Art and the project supported by the City of Gdansk.
"I prefer to hear the sound bouncing off the walls and most festivals are outside and have time limits and various handicaps…I am more or less a jazz folk guy, I'm not an entertainer there to jump up and down and get you pumped…I just do as I feel…," comments Anton Newcombe on the attractiveness of this collaborative project. "I see myself as an idea person. I play a studio, I play like 80 instruments in as many ways as I can reinvent them because I am not a virtuoso… I want to contribute to Polish culture by writing at least one song that is worth listening to."
Look forward to Pure Phase Ensemble 6 Live at SpaceFest!, to be released on CD and digitally later in 2017. In the meantime, enjoy this teaser:
We also invite you to enjoy footage from Live at SpaceFest! by Pure Phase Ensemble 4 feat. Mark Gardener.
PURE PHASE ENSEMBLE
Nasiono website
Pure Phase Ensemble Facebook
Bandcamp
Twitter
Soundcloud
YouTube