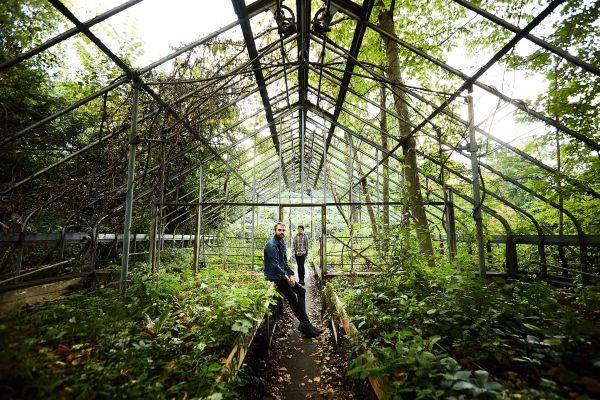 19 December 2017
Handsome Ghost; Photo Credit: Cortney Armitage
Hailing from Massachusetts, the indie pop band Handsome Ghost is on the fast track with two exciting launches – a debut studio full-length album titled Welcome Back, which is due on January 26th via New York label Photo Finish Records, and a slot supporting flor on a North American winter tour.
The duo of singer/songwriter Timothy Noyes and multi-instrumentalist/producer Eddie Byun who record under the Handsome Ghost moniker have been slowly releasing tracks from Welcome Back, including songs like "beauty/bends:" and "Better Off," which premiered on NYLON and Billboard respectively. The band further explores the introspective theme found on "Fool" – as well as the rest of the album – with a new single-shot video, directed by Tim's brother Nick Noyes.
Noyes and Byun are also in the midst of curating a series of live sessions directed by Nick, dubbed Escape Routes. The Stripped Sessions feature solo acoustic performances from Noyes, focusing on the song-writing and lyrics of select tracks found on Welcome Back, while the Sudden Sessions feature stripped down versions of the full-band improvising with different instruments in various locations. The band plans to roll these out every other week leading up to the album's release and beyond.
The Big Takeover is pleased to premiere one of those Escape Routes: The Sudden Sessions performances for the new single "Reckless Lover.". The Sudden Sessions are spontaneous. The band brings a pile of instruments to different locations and try to arrange and record the song over a couple of hours. They're supposed to be reactionary to the song, the spaces they are in, and to each member. As opposed to in the studio, where the purpose of each part is dissected, these sessions are everyone's take on the songs, mashed together without giving themselves enough time to over-think.
Timothy Noyes explains, "All told, we spent over a year working on our first full-length record at our studio in Massachusetts. It was treat to be able to work at our own pace, and we were very deliberate in the way we arranged each of the songs on the album. Very, very deliberate. After months and months with these songs, our Sudden Sessions series in an opportunity to look at each of them again with a completely fresh perspective. For this performance of "Reckless Lover," we met up and brought a handful of instruments and nothing prepared. We purposely showed up with no arrangement in mind. The hope was that we'd be able to put something together quickly and organically and get it filmed and recorded without thinking too hard. And that feels good after a year plus of thinking really, really hard about music and songs all of the time."
He continues, "I like the contrast between the song and the location we chose, a sheet metal shop not too far from our studio. "Reckless Lover" is a kind of sweet, kind of soaring song about two lives that come together for a few hours after years apart. And the shop just feels so harsh and aggressive in the way that it's a lit and the machinery. It's the meeting of two extremes, and I think it's oddly fitting."
Handsome Ghost's North American tour with flor is on sale now and runs from February 2nd through March 3rd, hitting 23 cities across the region, including landmark venues such as 7th Street Entry in Minneapolis, The Mercury Lounge in NYC, and The Troubadour in Los Angeles, among others.
2/2 at Crocodile in Seattle, WA
2/3 at Holocene in Portland, OR
2/4 at Kilby Court in Salt Lake City, UT
2/7 at Globe Hall in Denver, CO
2/8 at The Maintenance Shop in Ames, IA
2/9 at 7th Street Entry in Minneapolis, MN
2/10 at Subterranean in Chicago, IL
2/11 at Basement in Columbus, OH
2/13 at Pike Room in Pontiac, MI
2/14 at Rivoli in Toronto, ON
2/16 at Middle East Upstairs in Boston, MA
2/17 at Bowery Ballroom in New York, NY
2/18 at World Café Live in Philadelphia, PA
2/20 at DC9 in Washington, DC
2/21 at Local 506 in Chapel Hill, NC
2/22 at The High Watt in Nashville, TN
2/23 at Masquerade (Purgatory) in Atlanta, GA
2/24 at Social in Orlando, FL
2/26 at White Oak (Upstairs) in Houston, TX
2/27 at Stubb's Jr. in Austin, TX
2/28 at Three Links in Dallas, TX
3/2 at Rebel Lounge in Phoenix, AZ
3/3 at Troubadour in Los Angeles, CA
Website
Facebook
Twitter
Instagram
comments powered by