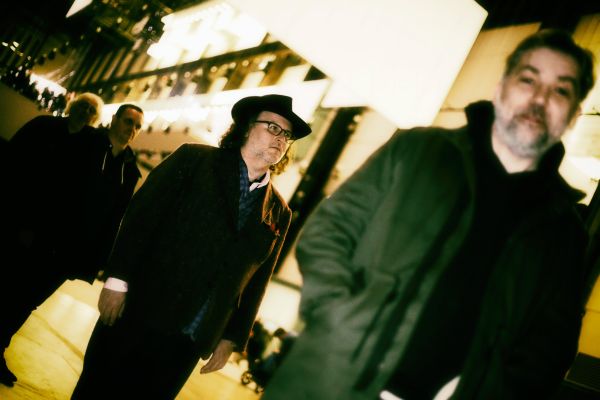 14 February 2017
Divisionists; Photo credit: Ian Falconer
You might have heard the term power pop batted around over the past decade, a term that has been used loosely to describe everything from dream-pop to bands that clearly draw their inspiration from 1960s British and American rock music (not to be confused with Brit pop). Leaning more to the second part of that spectrum is the London-based quartet Divisionists, who took their name from both the Neo-Impressionist modern art movement, and one of the political factions in Beat poet William S. Burroughs' Naked Lunch: those who occupy 'a midway position'; who 'literally divide', yet 'live in fear of a replica revolution'.
The members of Divisonists have announced that they will be releasing their debut album Daybreak on March 17 and The Big Takeover is happy to premiere the new video for "Say Can You" to whet your appetite.
The accompanying video was animated by Xeth Feinberg of Distractionland and psych rock band The Prefab Messiahs
To name just one band that comes to mind when listening to "Say Can You" – it would be Teenage Fanclub. If naming two, then add The Lemonheads. This title track summons all the warm-fuzzy and excited feelings in relation to 20-something head-over-heels music relationships, like when first hearing the Teenage Fanclub classic Bandwagonesque and Evan Dando's masterpiece It's a Shame About Ray.
"We are very excited by how well Daybreak came together as an album. For me, I'm lucky to be in such an great band: Mark, Rob, Mike, and I have fantastic synergy to explore new territory, yet also the intense (obsessive!) perseverance to get it right," says Divisionists' frontman Brendan Quinn. "Musicians always say a record is a labor of love – in this case, it's really been true. We've put the very best of us into this recording, to create an interpersonal and cultural snapshot of blood, sweat, tears, late nights at the pub, the whole works – and we believe we've made something cool."
This new 12-track LP is their sophomore offering, following their 2011 debut EP we play rock music… Daybreak features contributions by saxophonist Brian Idd and vocals from both Gwen Knighton and Lisa Makros.
Daybreak was recorded at Perry Vale Studios, The Mill House, and Haiku Sound, where it was also mixed. Quinn produced the album with assistance from legendary psych producer Sterling Roswell a.k.a. ROSCO (Spaceman-3, The Darkside), and Pat Collier (The Vibrators) on board as tracking engineer. The album was mastered by veteran mastering engineer Don Grossinger (The Flaming Lips, Brian Wilson, Franz Ferdinand, The Rolling Stones, Annie Lennox, Sharon Jones And The Dap-Kings).
Quinn is best known as the guitarist and vocalist for the cult psychedelic/space-rock pranksters Abunai! (regulars at the Terrastock Festival with three albums and two EPs on the Camera Obscura label). He formed Divisionists in 2010, embracing psych rock, power pop, and reimagined traditional folk ballads. Since then, they've developed a tight working relationship with members of Spaceman-3, Swiss garage-psych pioneers Roy and the Devil's Motorcycle, the Sterling Roswell Band, and members of Swervedriver, Acid Mothers Temple, The Brian Jonestown Massacre, and The Perfect Disaster.
The Daybreak LP will be released digitally and on 180-gram orange vinyl, complete with full-color folded insert with artwork and lyrics, via Mount Watatic Records. While the album will only be fully streamable on March 17, the vinyl record is available now for pre-order via Divisionists' Bandcamp
DIVISIONISTS ARE:
Brendan Quinn – guitar, lead and backing vocals, piano, organ
Rob McGregor – drums, percussion
Mark Bennett – guitar, synths, backing vocals
Mike Whitaker – bass, piano, backing vocals
We also invite you to enjoy more tracks from their previous EP:
Website
Facebook
Bandcamp
Twitter
Soundcloud
comments powered by