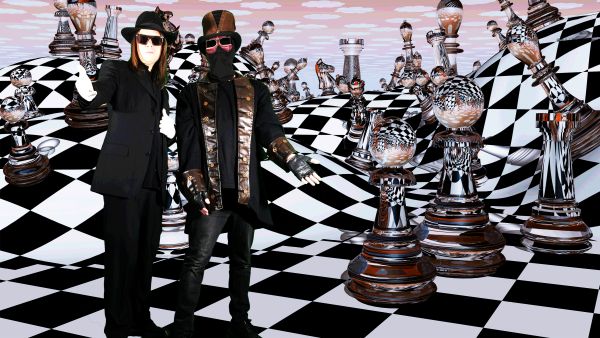 30 January 2018
ShapeShiftingAliens; Photo Credit: Niklas Rundqvist
It's a well known fact that Sweden is one of Europe's largest producers in terms of new music in Europe these days. Today The Big Takeover has the pleasure of introducing you to an artist from this neck of the woods that you've likely not discovered thus far.
ShapeShiftingAliens seems to be one of the country's best kept secrets. Celebrated in their home country yet virtually unknown outside of Scandinavia, this is likely going to change for them very quickly. We present you the new video for "Showing My Face".
It's easy to recall David Bowie and Tin Machine upon listening to this, as well as the wonderful compositions between Angelo Badalamenti and Trent Reznor for David Lynch's Lost Highway soundtrack, not to mention Brian Eno at his most upbeat and Moby. There's even a dash of Underworld in their less hallucinogenic moments. This is superb and addictive – one of the better tracks of 2018 thus far.
ShapeShiftingAliens is a Swedish duo, consisting of Niklas Rundquist and J.P. Cleve on vocals. Together they create music and unusual and eccentric videos. Their inventive approach appealed to Nolan Cook from The Residents, leading them to collaborate with one another.
Rundquist and Cleve met when they were both working with Iodine Jupiter. Cleve is a producer and composer, live musician and studio musician (guitar) for artists and film, as well as touring and performing with such artists as Haakon Pedersen, Mia Kempf, and Lasse Lindbom, among others.
In the early '80s, Rundquist participated on Lustans Lakejer's first record and performed with The Leather Nun. Since then he has been composing music for films, documentaries, and commercials (i.e. the vignette for Sandrew Metronome) and has created music for Cirkus Cirkör, Iodine Jupiter, and various artists on the London scene. Today, Rundquist is once again part of The Leather Nun (on violin) and stands behind Brainshadow.
ShapeShiftingAliens signed to Swedish indie label The Sublunar Society in 2016. Since that time, they have released three singles – "Just a Boy", "Stay", and "Cut To The Bone" – followed by their full-length ShapeShiftingAliens LP in 2017.
The Sublunar Society is a record label and publishing company, founded by Marie Lundvall and Peder Bjoerk in 2013. Sublunar releases music and publishes literature for the international and national markets. The company also produces exclusive limited edition art products for collectors. The guiding spirit behind The Sublunar Society is one of artistic freedom and creative exploration beyond the conventional.
Showing My Face will be available across online stores and streaming platforms as of March 8th, as well as The Sublunar Society's own Bandcamp.
Looking into their past releases has also led to unearthing some other treasures, as you can see below:
SHAPESHIFTINGALIENS
ShapeShiftingAliens at Sublunar Society
Spotify
Twitter
Facebook
iTunes
Website