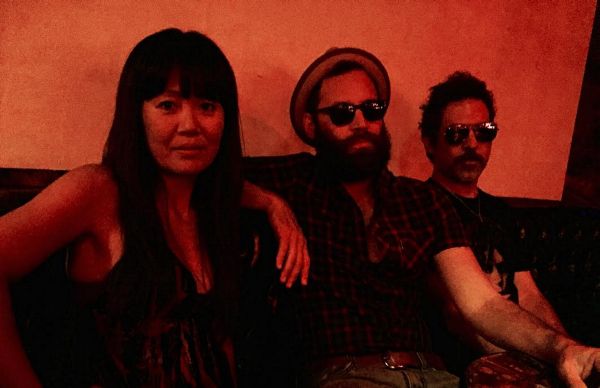 15 December 2017
Vast Asteroid; Photo Credit: Julien Legay
Hailing from Los Angeles, Vast Asteroid is a super-group of sorts, made up of The Warlocks' former bassist Mimi Star, seminal Mancunian punk-rock band Slaughter And The Dogs drummer Mark Reback, and singer and guitarist James Poulos.
Tracked during a magical week at the legendary Rancho de la Luna studios in Joshua Tree, California by producer/engineer Andy Freeman, their self-titled debut is able to instantly bring together the lovers of shoegaze, space rock, Brit-pop, and heavier stuff like stoner and desert rock.
The Big Takeover is excited and delighted to premiere the narrative video for long-distance trajectory of epic "Spacegaze," It's a cautionary video that splices together retro-'50s government-funded footage about the dangers of the atomic bomb and the safety of fallout shelters – basically a warning about our nations' catastrophic nuclear capabilities (especially in the hands of hot-headed dictators).
About the song itself, drummer Mark Reback says, "Rancho de la Luna Studio host extraordinaire and co-conspirator Dave Catching of Eagles Of Death Metal joined Vast Asteroid with his guitar magic on a late night, totally improvised jam that we were lucky to capture on tape, and is presented on the album's closing song 'Spacegaze', with no overdubs or editing, and the wind and rain and chimes were recorded real time from the front porch of the studio during the storm outside while we were jamming… It all adds up to pure sonic magic."
Singer and guitarist James Poulos explains, "We knew early on we wanted to offer an epic journey through a short record… "Spacegaze", the longest [track], is the natural closer, the live-to-tape, improvised, literally show-stopping one-take leviathan. To me, that cosmic structural balance felt very golden and natural. Christian [Stephen, director] turned out to feel the same way… Next thing we know we have this extremely modern and transporting send-up and warning about this extremely otherworldly moment we're all twirling around in."
Poulous continues, "Watching it back for the first time, I … thought of… what I consider to be the best and most important moment of television this year,… the infamous atomic sequence in Season 3 Episode 8 of Twin Peaks. As Bob Dylan has noted (and I've never quoted Dylan before, but how can you not in this case?), rock and roll was atomic music, it was a herald of great danger and the instability of things, unleashed in a manner the responsibility for which we cannot escape. It was a reckoning. As far as I'm concerned, what Christian did with this film is take the musical manifestation of our innermost sensations about the reality of life today and summon forth a reaction from the spirit of the world."
The video director Christian Stephen affirms, "Approaching the video for SpaceGaze was an unusual process… I'd been studying a lot of 1950s post-war, government funded films… As it relates to the song, I really felt that the track itself has a very visceral ebb and flow that is a mixture of awe and violence. As the track finds its harder edge, I found it fit perfectly with the atmosphere at the beginning and end of a nuclear detonation. But more than that, I really felt the need to mix together what Vast Asteroid represent to me, which is danger, hope, warning, wisdom, and enough melody and hooks to get even Dr Stranglove up and moving."
Stream/buy at Bandcamp
Director Christian Stephen is going to have his film The Sun Ladies at the Sundance Festival in January.
comments powered by