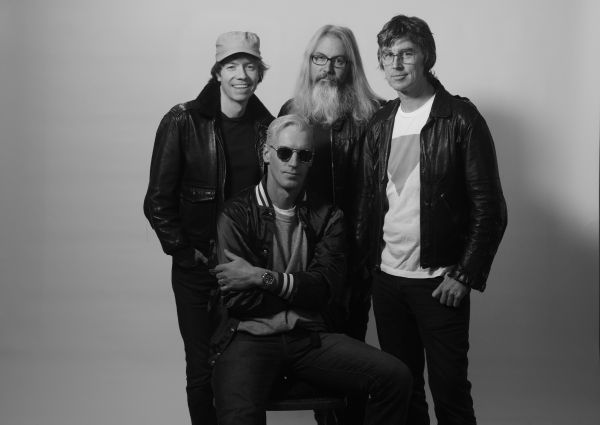 15 February 2018
Sloan; Photo Credit: Corbin Smith
Canadian indie rock royalty, Sloan, recently announced their 12th studio album, appropriately titled Sloan 12, which is set to release April 6th via Murderecords / Yep Roc Records.
Sloan are one of the rare bands to make it to their 12th album with all four original members who are equally prolific songwriters and all still working at the top of their respective games, sounding utterly ageless in the process. Sloan 12 includes three songs written by each member with the band being eager to initiate more creative cross-pollination in their songwriting.
Each of the four individuals contribute unique qualities that play into their core strengths: Patrick Pentland with the soaring rock anthems, Chris Murphy with the playful, participatory sing-alongs, Jay Ferguson with the jaunty prog-pop gems, and Andrew Scott with the whimsical innerspace explorations. While the 12 songs on Sloan 12 greatly emphasize each member's distinct personality, they're all ultimately united by their lean economy and punchy precision.
Sloan is a Toronto-based rock band from Halifax, Nova Scotia who first performed in the spring of 1991. The band are credited as being a main instigator for the Canadian East Coast alternative scene of the early '90s, garnering comparisons to the Seattle Grunge movement on the opposite coast. Over the course of their quarter-century career, Sloan have amassed an outstanding collection of over 200 songs and more than 30 singles with airplay at Canadian Rock Radio. Sloan have received nine Juno Award nominations, and won for Best Alternative Album in 1997. Recently, the band was named one of Canada's top five bands of all-time in a CBC critics poll.
Sloan has been a favorite of The Big Takeover for, dare it be said, decades and we are extremely excited to premiere the lyrics video for the second single and kick-off track of the album, "Spin Our Wheels." This engagingly up-tempo indie rock tune with Chris Murphy on lead vocals is filled with a driving pace and glorious harmonies that will get you going, while the perceptive lyrics about longevity, ambition, and the passing of time will give you thoughtful pause.
The introductory surge of "Spin Our Wheels" conjures the gliding momentum of the band's Converse-clad classic "500 Up," sounding new while still focusing on Murphy's iconic playful (yet participatory) sing-along song structure. More than a quarter of a century later, Sloan still knows how to provide you with the hooks that you'll be singing for days.
Additionally, the band is pleased to announce an extensive 2018 tour with over 30 dates across North America where they will be bringing Sloan 12 to life for fans. Full itinerary below with more dates to be added soon.
SLOAN TOUR DATES
Apr 3 Sudbury, ON Townehouse
Apr 4 Thunder Bay, ON Crocks
Apr 5 Winnipeg, MB The Pyramid
Apr 6 Regina, SK Turvey Centre
Apr 7 Saskatoon, SK Broadway Theatre
Apr 8 Red Deer, AB Bo's Bar & Grill
Apr 9 Grande Prairie, AB Better Than Fred's
Apr 11 Calgary,AB Marquee Beer Market
Apr 12 Edmonton, AB Starlite Room
Apr 13 Medicine Hat, AB The Silver Buckle
Apr 14 Fernie, AB Fernie Resort
Apr 15 Nelson, BC Spirit Bar
Apr 17 Campbell River, BC Tidemark Theatre
Apr 18 Nanaimo, BC The Port Theatre
Apr 19 Victoria, BC Capital Ballroom
Apr 20 Vancouver, BC Imperial
Apr 21 Portland, OR The Doug Fir
Apr 22 Seattle, WA Columbia City Theater
Apr 24 San Francisco, CA Rickshaw Stop
Apr 25 Los Angeles, CA The Moroccan Lounge
May 3 Halifax, NS Marquee (ECMA festival)
May 5 Portland, ME Empire
May 7 Boston, MA Brighton Music Hall
May 9 Philadelphia, PA Boot & Saddle
May 10 New York, NY Bowery Ballroom
May 11 Washington, DC Rock & Roll Hotel
May 12 Buffalo, NY Iron Works
May 19 Bala, ON Kee to Bala
Jun 19 Cleveland, OH Grog Shop
Jun 20 Detroit, MI St. Andrew's Hall
Jun 22 St. Louis, MO Blueberry Hill Duck Room
Jun 23 Chicago, IL Bottom Lounge
Jun 24 Saint Paul, MN Turf Club
Jun 27 Timmins, ON Stars and Thunder Festival
Website
Facebook
Twitter
Instagram
YouTube
comments powered by