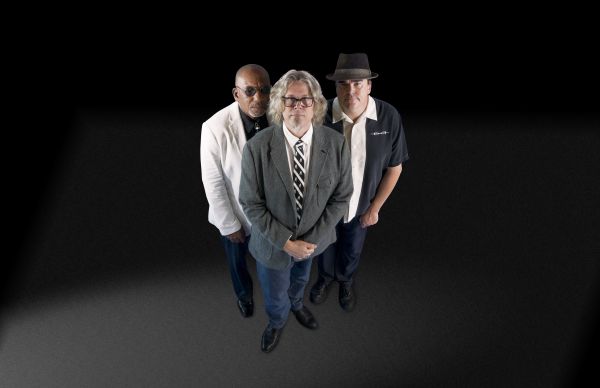 25 April 2018
Kurt Stifle and the Swing Shift; Photo Credit: Angelus Bailey
Back in the day, when Kurt Schellenbach was blazing those wild, incisive, politically correct trails as co-founder/writer for '80s South Bay punkers The Nip Drivers, he did crazy stuff like appear in the notorious underground Dave Markey film Desperate Teenage Lovedolls, recording albums like Destroy Whitey and Oh Blessed Freak Show, and released popular covers of "Fox on the Run" and "Have You Never Been Mellow."
Three decades, multiple musical incarnations and billions of creatively firing neurons later, he's still restless – only now he's singing. He started launching more music a few years ago, releasing three eclectic albums titled Through the Fence, Over the Hill, Under the Radar (2014), Musica Divina & Humana (2015), and the early January arrival of rock opera The Pilgrims Guide to The River of Salvation.
Recording as Kurt Stifle, and with his trusty Swing Shift collaborators of Steve Reed (bass) and Bob Lee (drums), the LA-based Schellenbach (vocals, guitar) is driven by sonic wanderlust, roaming over a vast swath of the past 60 years of music and experimenting with instrumentation and the recording process. They are influenced by classic rock, power pop, and punk music and enjoy the challenge of making those genres their own.
The Big Takeover is delighted to premiere the enjoyable video for the sharp rock 'n' roller "Swampee". In the visually inventive and amusing video directed by Angelus Tamerlane Baily , riotous sock puppets that look like swamp creatures inhabit the murky mire – while the 'singer' puppet ends up hitching a ride of a car speeding by.
The manual animation is trippy, a fun journey, and, as Schellenbach explains, "Swampee is 'THE' classic roadhouse sing-along complete with misspelled title and sludgy guitars. The perfect soundtrack for any puppet bar brawl! He lurks around the slippery byways of Los Angeles, licking his chops at his chance of dragging you down by the ankles into the mud… beware."
comments powered by