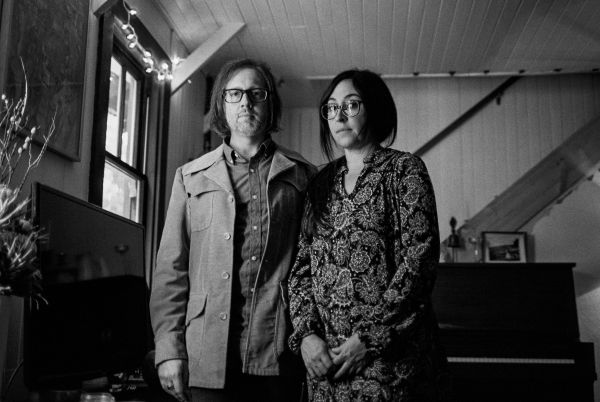 1 August 2017
Planes on Paper; Photo Credit: Nirav Patel
Washington state-based indie alternative folk/country duo Planes on Paper has been making a name for itself for the past two and a half years based on the strength of its engaging singer-songwriter substance and style. Navid Eliot and Jen Borst have earned effusive media critic praise and have drawn crowds to their lively shows and festival performances.
Planes on Paper's next venture is an upcoming debut album, but before that arrives, the duo is releasing the single "Television" and its B-side "The Ruins" today, along with an accompanying video. "Television" is the act's ode to (or more like an indictment of) American partisanship, and the way it has served to almost completely stifle meaningful conversation.
Eliot and Borst reveal that, "This is a song about American politics, and the divided place we find ourselves in. That being said, our writing process tends to lead us down the path of the personal and emotional impact of a given topic, rather than the topic itself. We most often (this case included) aren't experts on the subject, but we do feel qualified to speak on the way we feel. And when it comes to the current political climate, we feel as though the days of discussion and careful deliberation are gone, replaced by a broken marriage in which both parties would rather turn up the TV than talk, and that's awfully sad. You don't need to be an expert to say, "I hope one day we can discuss our differences in a way that makes it clear that we care for one another more than we care about winning the argument.""
"Television" and "The Ruins" are available now on multiple formats, and available everywhere online, including iTunes. Planes on Paper are imminently kicking off a 17-show West Coast tour, followed by an East Coast/Southeast Tour beginning on October 1st.
Official Site
Facebook
Bandcamp
West Coast Television Tour:
8/3 – Boise, ID
8/4 – Salt Lake City, UT
8/5 – Provo, UT
8/6 – Buena Vista, CO
8/7 – Denver, CO
8/8 – Taos, NM
8/9 – Flagstaff, AZ
8/10 – Phoenix, AZ
8/11 – Las Vegas, NV
8/12 – Los Angeles, CA
8/13 – Oxnard, CA
8/13 – Palm Springs, CA
8/16 – San Francisco, CA
8/17 – Davis, CA
8/18 – Ashland, OR
8/19 – Eugene, OR
8/24 – Seattle, WA
8/31 – Portland, OR
comments powered by