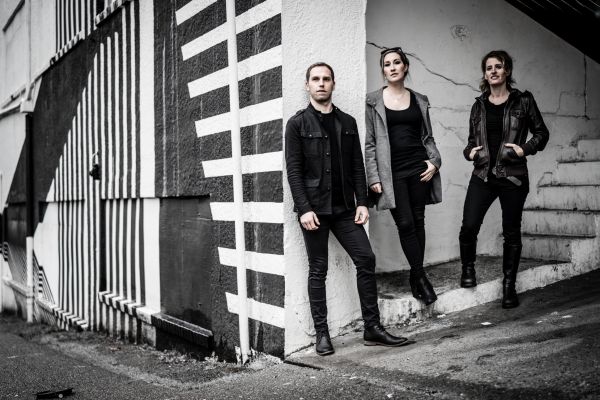 14 June 2018
Sound of the Hunter – Photo Credit: Travis Trautt
Seattle-located rock band Sound of the Hunter is led by Natalie Bayne. Sound of the Hunter will be releasing the album The Shadow The Light on July 13th and the music is reminiscent of the CRASS-related Poison Girls, a feminist-anarchist punk-pop band from the late '70s/early '80s. The band gives "The Fall" a retro twist, with spare guitar lines and Bayne's twangy vocal inflection. The Big Takeover has the pleasure of premiering the video for "The Fall", a half performance and half storytelling clip.
Natalie Bayne explains the story behind the song and video, stating, "The song is about the weird culture of individually manufactured celebrity that we live in now and how, as an artist, you don't have much of a choice but to participate in it to some extent if you want to succeed, It's about how blurry the lines between image and reality can become and how we can lose ourselves if we're not aware of it."
She continues, "We shot the video at Equinox Studios which is this enormous artist work space in the Georgetown neighborhood of Seattle with these big metalworking and woodworking shops and just every kind of art space you can imagine. It's an incredible place and everyone was so cool and welcoming. They let us use just about anything we wanted on site. The band was playing on top of this big shipping container with a drone flying all around and no one minded at all. One of the artists, Sophia Wheelwright, whose beautiful cloud-like sculptures appear in the video is even one of the extras in the fan shots."
"Reid Kuennen, the director, and I worked together on the concept and the script and then they put together an amazing team and we shot the whole thing in one long, fun, tiring day." concludes Bayne.
The Shadow The Light is available for pre-order June 14th at Bandcamp
Website
Facebook
Instagram
Twitter
comments powered by