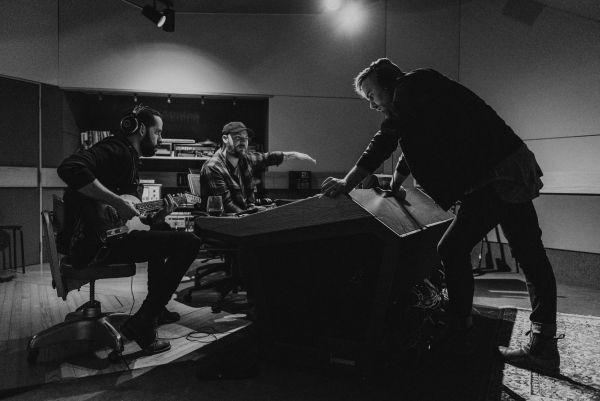 20 December 2017
Blitz/Berlin; Photo Credit: Erin Leydon
The Big Takeover is excited to premiere the new video for "The Tannhauser Gate" off the new Blitz//Berlin album, Movements II. It's the second instrumental album from the award-winning Canadian band. Following a year of feature film work as composers, the act has emerged with a collection of original songs – some unheard before, and others recognizable from their film composition work.
They decided to pair the track with a fresh visual, commenting that, "The visual was inspired by the isolation and stark lifelessness of the future which Blade Runner predicts. Sometimes the daily world around us is stranger than we realize, and can appear as such when seen from a different perspective. To explore this idea, cinematographer Hank Devos captured surreal visions of our modern world and the small identical spaces many of us live in."
With a host of credits to their name, Blitz//Berlin has composed tracks for high profile film projects such as Girl On The Train and Fifty Shades Darker. The latest single "The Tannhauser Gate" is an outtake originally composed for Blade Runner 2049 campaign. The track takes you on an epic and exhilarating journey. With cascading, rhythmic pulsation "The Tannhauser Gate" pushes you to the edge, only to suddenly drop the listener into a restful tranquility.
In just a few years on the scene, Blitz/Berlin has set themselves on a course for bigger and better things in 2018.
Listen to Movements II at Spotify
Track listing:
1. Birth (featured in the film Still/Born)
2. Empty House (featured in the film Still/Born)
3. Night Church (original)
4. 27 (original)
5. Snowmelt (original)
6. Water (original)
7. Empty House (Deconstructed) (featured in the film Still/Born)
8. Still/Born Sketchbook (the music that began the film Still/Born)
9. The Tannhauser Gate (created for Blade Runner 2049 campaign)
10. Farewell To Nova Scotia feat Bülow (created for Canada 150: Canada Sound initiative)
Website
Facebook
Twitter
Instagram
comments powered by