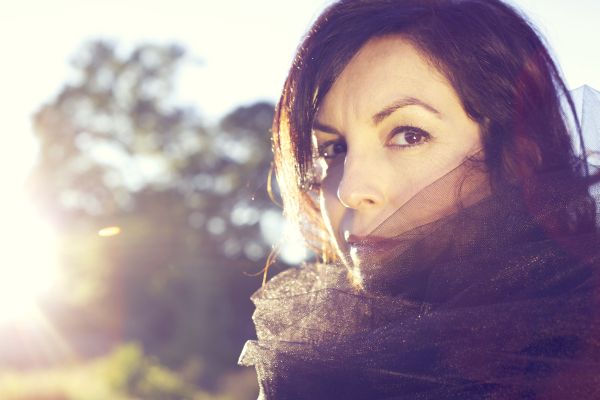 20 March 2018
Angela Josephine; Photo Credit: Matthew Von Dayton
Daylight, the long-awaited, full-length album from indie-folk artist Angela Josephine, is scheduled for release on May 4, 2018. The project is a folk-rock opera, and the cinematic prelude and first single on the release, "This Light," sets the stage for the narrative that plays throughout the album – self-exploration.
Josephine explains, "I wanted to release this video and this song today because the vernal equinox is about a moment of existing in the balance between two extremes… winter and spring, darkness and light… and the length of darkness and light are nearly equal. It is a cosmic metaphor of not only the song, "This Light," but also the album, Daylight."
The video was directed by Matthew von Dayton, with whom Josephine had worked on a past video. "Matt is a genuine artist with a quiet manner and an enviable, quirky creativity," says Josephine. "For example, there is an otherworldly light that appears and disappears throughout the video. That is Matt 'magic' and it involves fire and glass, but I'm not sure that I'm at liberty to say more. Suffice it to say, it was unique and creative!"
The video concept was collaborative, but grew from a single image that Josephine says, "may or may not have come from a dream, according to Matt." The concept focuses on an ethereal, dreamy mood with a tone of mystery and hints of light revealing the Northern Michigan landscape. For the shoot, she brought along a luminous fabric and as they began to experiment, it quickly became apparent that the fabric was a character in that concept. "The hope is you get the sense that darkness and light are not boundaries of a liminal space, but rather coexist in a beautiful way that can be a kind of mystery," Josephine says.
Recorded in Detroit and Ann Arbor, MI with producer Chris Bathgate, Daylight expands the sonic palette of Angela Josephine's work as well as showcasing her on a variety of instruments (guitar, mandolin, hammered dulcimer, piano, Wurlitzer, organ, synth). "Every song on the album furthers the arc of the woman in the story," Josephine explains further. "If this album is about coming to terms with the duality of light and darkness, this song presented itself as the photon; the elemental force that runs through it all. I was recently in Northern Ireland at an event with the Irish poet and mediator Pádraig Ó Tuama and he spoke about his belief that prayer helps us come to terms with ourselves, with the underbelly of our desires and the truth we may have avoided or not realized. And he also said that if prayer is working, it helps us to be truthful with our lives. Songwriting is a form of prayer for me in that way – it is teaching me my truth."
The Big Takeover is delighted to premiere the video for the song "This Light", a meditative number that slowly and purposefully unfurls with subdued piano notes, the occasional muted drum beat, and soft synths accompaniment. Josephine's bittersweet, ruminative, and velvety vocals reach out through the pensive atmosphere, as sight and sound support each other on a video that balances shadowy darkness and dawning light.
Angela Josephine's new album Daylight is available for Pre-Order , and "This Light" is available as the first instant-gratification track with the pre-order.
Facebook
Twitter
Instagram
YouTube