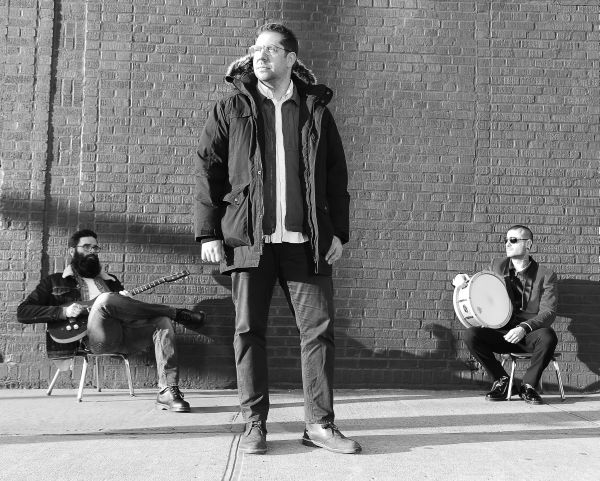 25 May 2017
Onesie; Photo Credit: Shanna Hutchins
Today, The Big Takeover is excited to premiere the music video for "This Minstrel" by Brooklyn's power-pop group, ONESIE. It comes off their album Leos Consume released earlier this month. Known for their wacky, fun, and light-hearted attitude, the band takes a slightly more serious approach, featuring a FAO Schwarz Jim Henson puppet as the perfect protagonist. At what first may appear to be a comical appearance, the gloomy figure provides a perfect representation for the lyrical content.
Lead singer Ben Haberland shares, "It's a is relatively chill song in the Onesie oeuvre. The lyrics reference various people that have moved on with their lives. The protagonist feels left behind; it's that feeling of always looking over your shoulder, assessing failure, or just being caught in the loop of trying to make sense of your path whilst feeling frozen on it. There's that cliche that the past is very alluring to people since it can be held and studied, but really, nostalgia or comparing your circumstance to others just digs you into a deeper hole that's increasingly harder to climb out from."
As for the video, he goes on to explain how the goth puppet came to be, "Initially I had an idea to follow a homemade, tattered puppet through a morning commute, muttering one criticism after another as one does. At some point I recalled a friend of mine received a gift from the FAO Schwarz Jim Henson Workshop made in her likeness (complete with long black hair and leather jacket) and I thought it could look stark and cool to shoot the puppet in high contrast black and white. We shot over a few days and the graveyard stuff looked immediately awesome; noir as hell."
Heavier than their previous, often goofy videos, the use of a puppet provided a perfect protagonist, representative of self-isolation, stuck in her own bubble. "I love that she has a default expression of shock and disbelief that reminds me of something we might be desperately trying to conceal throughout the day. She doesn't really interact with anything or anyone, but she seems to be searching… there's a sense of self-medication going on as some internal drama spills forth."
Shot throughout Brooklyn, Onesie stays true to their roots, providing a layered, metaphorical-filled video without letting it get too heavy or drab.
Onesie is the musical moniker for Brooklyn-based songwriter Ben Haberland. Stitching together vivid, hooky guitar pop anthems from scraps of British pop, American punk, and classic rock, the band deals in the currency of anthems written on the voyage toward modern adulthood. The live band, formed in 2013 with fellow scene survivor Zack Fanelli (ex Man Without Plan), wields a visceral dynamic reminiscent of the pair's early days in the DIY punk scene.
Leos Consume is out now and full of vivid, hooky, guitar-pop anthems – perfect for summer. Purchase on Bandcamp and all major digital retailers.
Be sure to catch Onesie at upcoming shows, including a showcase Brooklyn's Northside Festival on June 10, at Bar Matchless
Facebook
Instagram
iTunes
SoundCloud
Bandcamp
GooglePlay
Amazon