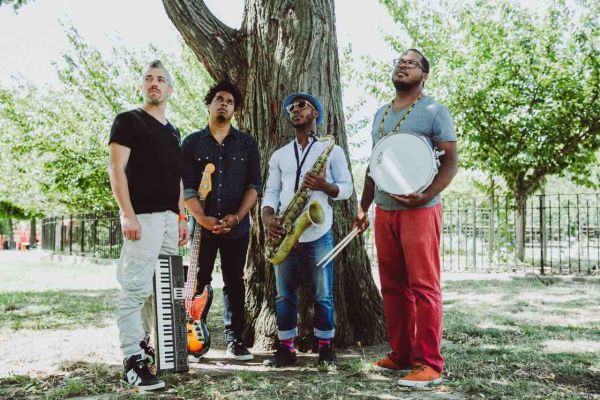 3 November 2016
A Tree Grows; Photo Credit: Amber Gress
As Brooklyn jazz fusion collective A Tree Grows gear up to release their debut self-titled album via Rufftone Records, we are pleased to premiere the live version of "Tragic" from this album, which is being released alongside lead track "Wau Wau Water". This performance was caught during Bushwick Open Studios 2016.
Every year in Brooklyn this special event happens, uniting tens of thousands of art enthusiasts and bohemians in an open dialogue with artists of various media. This year's event involved 1100 Artists, 654 studios, and uncounted works of art. Organized by Arts in Bushwick, this is the largest open studio event in New York City.
Acclaimed videographer Nicolas Zeig-Owens was asked to document a concert by the band A Tree Grows, but this effort enthusiastically expanded to incorporate impressions from throughout the entire festival – the studios, the people, the music. A Tree Grows was among these participants, bringing their ambient jazz stylings to provide a real-time soundtrack to visitors of 95 Starr Street Studio, which was showcasing oil paintings by Japanese artist Ayane Kurai.
In "Tragic", what we have is a mind-embracing sound emanating from one of the most important corners of the jazz and art world. Their sound is woven of the fabric that ultimately gave rise to this fantastic fusion.
A Tree Grows is comprised of some of the most exciting creative musicians on the New York scene: Russell and Rashaan Carter, siblings from Washington, DC, have teamed up with keyboardist and composer Emanuel Ruffler from Munich, Germany. Together they create a unique stew of jazz, electronica, soul afrobeat, rock, and experimental sounds, over which Duane Eubanks and Tivon Penicott stretch a layer of raw, emotional jazz lines.
Not afraid to defy expectations of style, instrumentation and expression, the unique style of each member of A Tree Grows makes for a potent sonic concoction that is refreshing, insightful, and deliciously exciting. We look forward to see what music is forthcoming for this relatively young collective.
"It's inspiring to play in the company of such amazing work. The studio is this incubator for creative energy and it's nice to absorb that. The space plays an important role in a concert and one that houses and spawns creative work is always welcome." says bassist Rashaan Carter.
Rufftone Records releases A Tree Grows "Wau Wau Water" on November 4 via Bandcamp and the usual online retailers.
Rufftone Records
Facebook
Twitter
SoundCloud
Instagram
YouTube
comments powered by