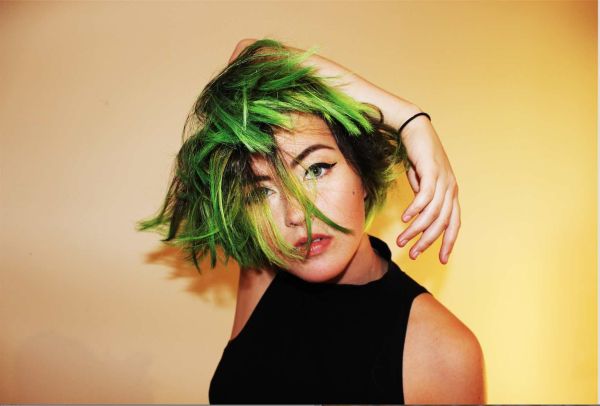 17 January 2017
Rose Berlin of SPC ECO; Photo Credit: Rose Berlin
When one of your favorite bands end up disbanding, you always end up hoping that the artists continue making music as epic as that which made you fall in love with them in the first place. It doesn't often happen, but once in a while it does, and that artist can continue to produce ear candy for decades to follow. This is certainly the case with electronic maverick producer Dean Garcia – after Curve, the band he established with Toni Halliday, broke up, he ended up forming SPC ECO with vocalist Rose Berlin.
Today The Big Takeover is thrilled to present to you the video premiere for SPC ECO's forthcoming single "Under My Skin", a truly beautiful and touching song that just featured in Series 6, Episode 7 of the MTV series Teen Wolf.
Rose Berlin is also Dean's daughter, which on first thought produces skepticism about how it would work out – after all, how many father-daughter acts do you know of on the music scene? But Rose and Dean are perfect together, as they've demonstrated time and again through stellar works loaded with rhythm, mood, and attitude – menacing and dark on the one hand, and heartfelt and playful on the other.
Rose Berlin says, "Thanks so much for featuring us. I've been really busy with my exhibition, and the new SPC ECO record, as well as teaching art three days a week in a junior school! So what with all that going on, it was awesome to wake up to the news that one of our songs is being used for a peak scene moment in Teen Wolf. It made my day!"
"Under My Skin" expresses pain and confusion in the midst of a dear relationship with Berlin delivering perhaps her most tenderly endearing performance to date. This single also comes with the B-side "Found". Stylistically and in terms of the atmosphere, these two tracks are ideally matched to one another.
The video for "Under My Skin", created by Harry Kite Garcia, was filmed on Hornsey Lane Bridge in London, England (otherwise known as Suicide Bridge).
"There was a truly emotional earthquake between Rose and myself due to a personal ongoing issue, which left us both scarred and in tears," explains Dean Garcia. "One hour later to mend us both, I asked her if she would like to sing on the sad piano song again and she sang what you hear on the track. Driven to tears once again, but for the polar opposite reasons, this song is the epitome of the unquestionable love and bond that only occurs between family."
SPC ECO recently released the full-length Anomalies via Saint Marie Records, preceded by Dark Matter on the same label. The Big Takeover has also previously featured the debut album What We Want from S T F U, Garcia's side project Preston Maddox of Bloody Knives.
The members of SPC ECO's has confirmed that they are busy recording a new album, due out in mid-2017; a record to very much look forward to.
Please also enjoy the video for the B-side "Found" and latest album Anomalies:
Website
Facebook
Bandcamp
Twitter
Tumblr
Soundcloud
YouTube