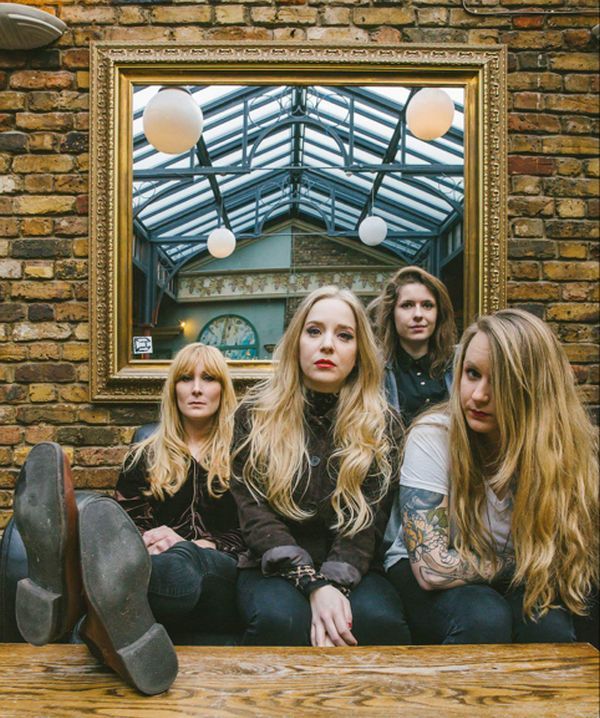 20 June 2017
The Franklys; Photo Credit: Del Bremner
Are You Listening? The Franklys scrawl it across the cover of their debut album, demanding an answer. Out June 23rd on Hälta Hälta Records. the LP finds the UK-based garage rock/pop band, comprised of Swedish Jennifer Ahlkvist (rhythm guitar, vocals) and Fanny Broberg (lead guitar, backing vocals), East Anglian bassist Zoë Biggs, and drummer Lexi Clark, at their full creative tilt. It encapsulates The Franklys' live energy and replicates perfectly the thrill of their high-voltage shows.
The band members explain, "We made a conscious decision to try and make as versatile record as possible with a mixture of energetic pop rock songs together with garage, punk, indie, hard rock and funk. Listening to it from start to finish really is a journey through all stages of our live show."
Are You Listening? was produced by Sean Douglas, The Franklys, and Jimmy O and Mikey Sorbello of The Graveltones. The artist behind the striking artwork on the album is Cal Sino from Australia.
The Franklys have built a reputation for themselves as one of the most exciting live bands on the London circuit and beyond, with relentless touring across the UK, Europe, and America, including a recent support tour with Airbourne and festival slots at Isle of Wight 2015 and Download Festival 2016.
The Big Takeover is dead chuffed to premiere the video for "Weasel" off of Are You Listening? The song is a bright, upbeat garage rock number filled with sharply ripe exclamations, wiry guitar angles, and an emphatic drum beat.
The amusing video is a hoot that takes place at a sports track and features the band members goofing off instead of exercising – although their larking about does expend plenty of energy…
Add one hard-nosed trainer and one super-fan – and a woman with a tray of tea and cookies (always the best part of a work-out, right?), and then they actually do race against each other, but in the end they're done in by various objects, including a weasel…
Official Site
Facebook
Twitter
Instagram
comments powered by