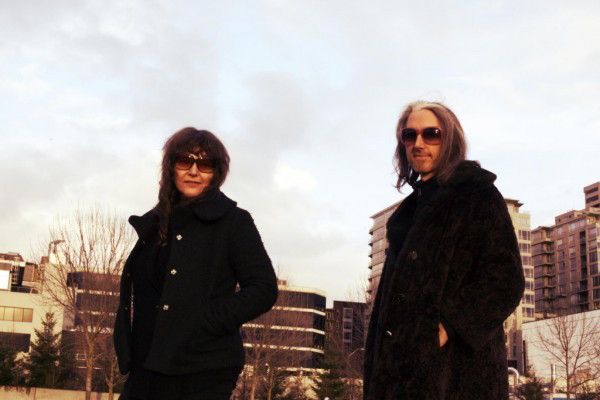 22 March 2017
The Spider Ferns; Photo Credit: Valerie Calano
The Seattle-based duo The Spider Ferns creates silky, narcotic, downtempo electronic pop/rock that is anchored in vocalist/bassist Kelly Fleek's seductive siren song and Alton Fleek's lushly shimmering guitar. The pair's dark, sophisticated sound combines a slick, trip-hop nostalgia with a dreamy Northwest haze.
The Spider Ferns have been described as "…if Portishead lived deep in the forests of Washington State." by Decoder Magazine and referred to as "…One of the most mesmerizing duos in the history of Seattle rock." by NadaMucho.
"Worlds Will Fall" is a beautiful parable for the modern age, set to the dreamy, cinematic track from The Spider Ferns' EP Safety. The video recalls ancient Greek theater and Shakespeare to illustrate themes revolving around basic human emotions: love, envy, anger, and their relation to larger issues of acceptance of same-sex love, the societal backlash against feminism in all it's forms, and the acceptance of otherness.
Alton says of the video, "We originally wrote "Worlds Will Fall" as an apocalyptic tune for a Twin Peaks music and art festival we were invited to play. When it came to creating the video, our current political climate shifted dramatically and several people in our local LGBTQ community were experiencing increased incidents of aggression in all facets of their lives. We decided to address the issue in the story of our video.
He continues, "Kelly is a textile artist and she created our costuming, including that amazing mask. I created the metal staff she carries to awaken our lovers. We employed beautiful friends of ours that are dancers, that at the time were a couple and their connection fully embodied the love and affection we sought to capture."
Alton concludes, "The video really had a life of its own and it became a wonderful collaboration between us, our dancers and camera crew, with the story evolving as we filmed. Just days after filming, one of our camera crew married the woman of her dreams at our home. It was all a bit magical, really. "Worlds Will Fall" is such a slinky, dreamy, cinematic song, we loved revisiting the lyrics as inspiration for a triumphant love story."
The Spider Ferns will perform the track live during their video release party Friday, March 24 at the High Dive Seattle. The pair are set to perform for Upstream Music Fest + Summit in Seattle's Pioneer Square neighborhood May 11-13, 2017.
Official Site
Facebook
Spotify
Bandcamp
Twitter
Instagram
comments powered by